Nokia stock gains on CEO switch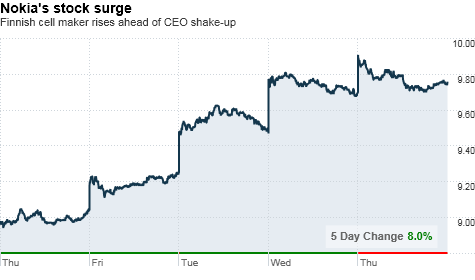 NEW YORK (CNNMoney.com) -- Nokia's stock rallied Friday after the Finnish mobile phone maker said it was replacing its chief executive with an executive from Microsoft Corp.
Nokia's board of directors said it hired Stephen Elop for the position of president and CEO. Currently the head of Microsoft's (MSFT, Fortune 500) business division, Elop is scheduled to begin his new job on Sept. 21.
Investors applauded the news, sending Nokia's (NOK) stock up about 2% in the first half hour of trading.
Nokia's current CEO, Olli-Pekka Kallasvuo, is scheduled to step down on Sept. 20, the company said. He will also vacate his position on the company's board of directors, though he will continue to chair the board of Nokia Siemens Networks "in a non-executive capacity," the company said.
The company said the incoming CEO has held executive positions at Juniper Networks (JNPR), Adobe Systems Inc (ADBE). and Macromedia Inc., in addition to Microsoft. Elop has a degree in computer engineering and management from McMaster University in Hamilton, Canada, his home country.
"The time is right to accelerate the company's renewal; to bring in new executive leadership with different skills and strengths in order to drive company success," said Jorma Ollila, chairman of Nokia's board of directors. "The Nokia board believes that Stephen has the right industry experience and leadership skills to realize the full potential of Nokia."
A Nokia spokeswoman in Finland would not say why the company was replacing its CEO. But in July, the company reported ongoing profit declines for the second quarter and Kallasvuo spoke of "continuing competitive challenges."
Nokia's competitors include Apple Inc. (AAPL, Fortune 500), maker of the iPhone, and Research in Motion (RIMM), maker of the BlackBerry.