Stocks rally to 4-month highs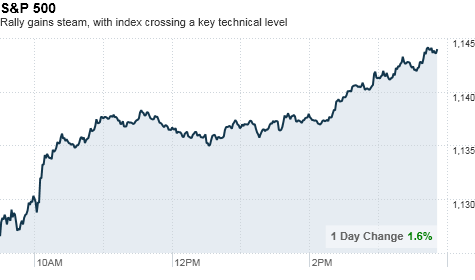 NEW YORK (CNNMoney.com) -- A U.S. stock rally continued to pick up speed through Monday afternoon, with all three major indexes closing at four-month highs after a key group of economists called an official end to the recession.
The Dow Jones industrial average (INDU) gained 146 points, or 1.4%, to end at 10,753, its highest close since mid-May. The tech-heavy Nasdaq (COMP) rallied 40 points, or 1.7%, to finish at 2,355.
The S&P 500 (SPX) added 17 points, or 1.5%, to close at 1,142. The index crossed 1,130, a key technical level watched closely by analysts, early in the session and continued to surge in the afternoon to cross the next short-term technical level of 1,140.
"The S&P has tried to sit above the 1,130 level in June, August and last week but failed, so the fact that it has broken up above that point and is staying there is considered a positive sign for the bulls and forcing traders to come back in," said Donald Selkin, chief market strategist at National Securities.
Trading has been choppy on Wall Street recently as investors look for solid signs pointing to a sustained recovery.
Buying picked up steam Monday after the National Bureau of Economic Research, the independent body of economists in charge of dating when recessions begin and end, announced that the 18-month Great Recession officially ended in June 2009.
"I think it was known that the recession ended then, but maybe the official announcement gives people some needed assurance," said Selkin.
Meanwhile, investors also took in a housing report showing homebuilder confidence is stuck at an 18-month low.
"Housing is a zombie market," said Joseph Saluzzi, co-head of equity trading at Themis Trading. "The housing index reading today was horrible, but the stock market is reacting positively, meaning that investors are looking for more stimulus."
But Saluzzi warned that if the gains aren't sustained for several sessions, stocks could edge down since market fundamentals are pointing lower.
"Any rally that is induced by stimulus is not sustainable," Saluzzi said. "I think you have the let the cycle play through."
In fact, trading could drift back into choppy waters this week as investors return their focus to more economic news on the housing market.
Economy: A report from the National Association of Home Builders -- the first of a number of readings on the housing market due out this week -- showed builder confidence for newly built single-family homes remained steady in September, after falling for three consecutive months.
The NAHB's Housing Market Index was unchanged at 13. Economists surveyed by Briefing.com were expecting builder sentiment index to edge up to 14.
Data on housing starts and building permits in August come out Tuesday, while reports on new and existing home sales are slated for release later in the week.
Fed: Investors will also be watching the Federal Reserve's announcement on interest rate policy Tuesday. The central bank is widely expected to hold rates steady, but investors will parse the Fed's policy statement for clues on the economic outlook.
Companies: Against the backdrop of housing data due out this week, two major homebuilders are also releasing their latest earnings reports.
Lennar (LEN) reported $825 million in revenue -- a 14% rise over the year-earlier quarter. Profit was $30 million, or 16 cents per share, well above analysts' forecasts of 4 cents per share on $760.2 million in revenue. Shares of Lennar rose 8.2%.
Rival homebuilder KB Home (KBH) will report earnings on Friday.
IBM (IBM, Fortune 500) announced Monday that it plans to acquire data storage company Netezza (NZ) for $27 per share, or about $1.7 billion. Netezza shares rose 15%.
In another tech merger, shares of Nu Horizons Electronics (NUHC) more than doubled to $6.90 on news that Arrow Electronics (ARW, Fortune 500) will buy the company for $7 a share.
Verizon Communications (VZ, Fortune 500) named Lowell McAdam as its president and chief operating officer, putting him second in line to Chairman and CEO Ivan G. Seidenberg. Shares were up 1.3%.
BP (BP) announced Sunday that its Macondo well in the Gulf of Mexico has been cemented shut and is "effectively dead." The well ruptured 5 months ago, causing the worst oil spill in U.S. history. BP's stock rose about 1.7%.
Spirit Airlines filed for an initial public offering with the Securities and Exchange Commission.
World markets: European shares closed with strong gains. Britain's FTSE 100 jumped 1.7%, the CAC 40 in France rose 1.8%, and Germany's DAX added 1.4%.
In Asia, the Hang Seng ended modestly higher, while the Shanghai Composite edged lower. Japanese markets were closed for a holiday.
Currencies and commodities: The dollar fell against the euro and the Japanese yen, but rose slightly against Britain's pound.
Oil futures for October delivery gained $1.20 to settle at $74.86 a barrel. The October contract is slated to expire at the end of trade Tuesday, with volume already picking up in the November contract.
Gold for December delivery rose $3.30 to settle at an all-time high of $1,280.80 an ounce. Earlier, it hit an intra-day high of $1,285.20 an ounce.
Bonds: The price on the 10-year Treasury note was slightly higher, pushing down the yield to 2.71% from 2.75% late Friday.