We love our computers -- but love Macs best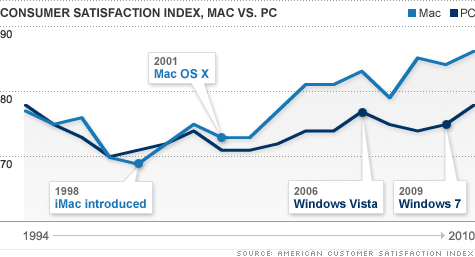 NEW YORK (CNNMoney.com) -- Americans' satisfaction with their personal computers has been on the rise for the past decade, but consumers still overwhelmingly prefer Apple's Macs to Windows PCs.
An American Customer Satisfaction Index report released Tuesday shows all PCs steadily improved in 2010, with consumer satisfaction rising an average of 4% over the past year. Consumers are the happiest that they've ever been with their computers, the 16-year old survey found, with PCs scoring a rating of 78 out of 100. That's up from 75 a year earlier.
Hewlett-Packard (HPQ, Fortune 500), Dell, Acer and other PC makers achieved higher ratings this year than they did in 2009: They all tied with a satisfaction rating of 77. The year before, all PC makers scored a 74 rating -- except for Dell which had a score of 75.
But Apple's (AAPL, Fortune 500) satisfaction rating also rose last year, blowing past its rivals with a score of 86, up from 84 in 2009. This year marks the seventh straight year in which Apple led the PC category.
"The biggest asset Apple has had for a long time is its commitment to innovation," said David VanAmburg, managing director of ACSI, an Ann Arbor-based research group. "Others are improving, but the whole world watches Apple when it comes up with its new products each year."
Some of that excitement is comes from Apple's famed "reality distortion field," in which a combination of brilliant marketing and Steve Jobs' aura of being ahead of the curve creates an inflated degree of excitement about the company and its products.
Apple's recent dominance in PC satisfaction is also fed by the company's halo effect from its other devices. Apple dominates the portable music player market with its iPod lineup, it kicked the smartphone market into high gear with the iPhone, and it reinvented the tablet market with the iPad.
Apple maintains that by creating great customer experiences around its popular devices, it can generate positive associations with its other products, including its Macintosh line.
The strategy is clearly paying off: Sales of Mac computers set an all-time high last quarter.
PCs clawing their way back up
Still, Apple's PC market share is comparably tiny. In the United States, it commands just shy of 9% of the market, according to IDC. Globally, it's even smaller, with about 5% of computers running Mac OS, according to Net Applications.
Apple's puny market share has a lot to do with its prices. Its entry-level, bare-bones Mac Mini starts at $699, and the most basic MacBook will set you back $999. Though Apple's high prices have fostered a small, loyal niche of rabid fans, cheaper alternatives from competitors are getting much better, especially now that PCs are shipping with Microsoft's (MSFT, Fortune 500) vastly improved Windows 7 operating system.
While Apple's MacBook laptops scored at or near the top of each measurable category in a recent Consumer Reports survey, the influential magazine ranked Toshiba's 13-inch, $599 Satellite T-235 laptop higher than Apple's $999, 13-inch White MacBook. It also said HP's 17-inch $1,150 dv7 laptop was better than Apple's 17-inch MacBook Pro, which sells for exactly twice as much: $2,300.
"Windows 7 has become very popular, and PC prices are coming down," VanAmburg said. "The biggest concern going forward for Apple is that competitors will soon start rivaling Apple's quality but will offer their PCs for much less."
For now, with a nine-point lead over its nearest competitor on ACSI's index, Apple appears safely entrenched at the top of the consumer satisfaction ratings.
By contrast, HP's all-but-forgotten Compaq line, seems to have a lock on the bottom. Compaq's satisfaction rating, unchanged from last year, was the lowest of all those surveyed for the ninth straight year. It was the only PC brand that didn't improve from 2009.