Why dividends are sexy again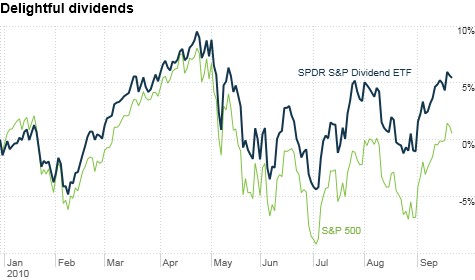 NEW YORK (CNNMoney.com) -- Dividends used to be only something your grandmother could love. But nowadays, even many growth companies are tripping over themselves to reward shareholders with a quarterly payout.
Microsoft (MSFT, Fortune 500) announced Tuesday that it was raising its dividend by 23%. Texas Instruments (TXN, Fortune 500) recently boosted its payout. And Cisco Systems (CSCO, Fortune 500) finally caved in and said it would soon issue one as well. And that's just the tech sector.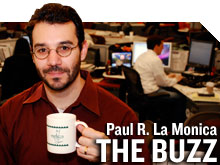 Grocery store chain Kroger (KR, Fortune 500), KFC and Taco Bell owner Yum! Brands (YUM, Fortune 500) and cigarette maker Phillip Morris (MO, Fortune 500) have all announced within the past month that they too are raising their dividends.
The reason companies are embracing dividends is not all that surprising. Stocks are being shunned by many average investors who are worried about the economy and still feel burned by the numerous market meltdowns over the past 10 years.
And with all the fear that's out there, bonds, typically considered the safest investments for people who simply want a steady income stream, aren't that attractive anymore.
The yield on the U.S. 10-year Treasury is now only barely above 2.5%. That's chump change. Microsoft's stock will yield 2.6%, once you factor in the recent dividend increase.
After the Fed signaled Tuesday that it's prepared to buy more long-term bonds if necessary, it's unlikely that Treasury rates will head much higher soon. (Bond prices and yields move in opposite directions.)
Meanwhile, many large firms, particularly in the technology sector, have a lot of cash on hand. And they are coming under pressure to put that money to better use instead of just stockpiling it on their balance sheets.
"There has been a growing outcry for Corporate America to start doing something with cash," said Tom Stringfellow, president of Frost Investment Advisors in San Antonio. "If I'm a CFO looking at what I could do, there's a laundry list of things, and paying money to shareholders makes a lot of sense."
Of course, some companies are using cash for acquisitions, as evidenced by an explosion of deal activity in Silicon Valley.
Companies are also relying more on stock buyback programs in order to boost shareholder value. Stock repurchases are generally viewed favorably since they could reduce the amount of outstanding stock and increase earnings per share.
But companies are not really using the cash to invest more in themselves, so to speak. Businesses are still reluctant to hire more workers because they are not certain that enough demand will be there for their products or services.
For that reason, companies may figure a dividend is one way to appease investors who might otherwise be disappointed by the lack of a solid earnings outlook.
"Nobody is sure about growth. Companies are beating earnings estimates but lowering their guidance," said Doug Roberts, chief investment strategist for ChannelCapitalResearch.com in Shrewsbury, N.J. "If you can't deliver earnings growth, how do you reward shareholders? That's why you're seeing more dividends as well as stock buybacks."
All that said, the return of dividends is undeniably a good thing.
Sure, it may be a sign that companies think growth will remain subpar for the foreseeable future. But the renewed popularity of dividends also shows that investors are going back to the future if you will -- fire up the DeLorean!.
Dividends used to matter a lot more when investors thought about total returns. The dramatic bull run in the 1990s changed that, and people started thinking that firms that paid dividends were "old economy" dinosaurs. That was a silly argument.
"People talk about this being a 'new normal.' This is the old normal," Roberts said. "People forgot about dividends because stocks always seemed to go up. 'Why do you need a dividend?' But dividends should account for a bigger portion of the returns in stocks."
Along those lines, it's encouraging that companies that pay dividends are, on average, outperforming the broader market this year. That trend is likely to continue as shell-shocked, nervous investors remain desperate for anything with a decent yield.
That may be boring. But what's wrong with boring after the turmoil of the past few years?
"The increase in dividends is an attempt by companies to attract longer-term investors, and not day traders," said Quincy Krosby, market strategist with Prudential Financial in Newark, N.J. "More and more investors are talking about the concept of compounding returns. I haven't heard that term in many years but it's popping up more and more."
- The opinions expressed in this commentary are solely those of Paul R. La Monica. Other than Time Warner, the parent of CNNMoney.com, and Abbott Laboratories, La Monica does not own positions in any individual stocks.