Outsourcing turns from Rio and Bangalore to . . . Detroit?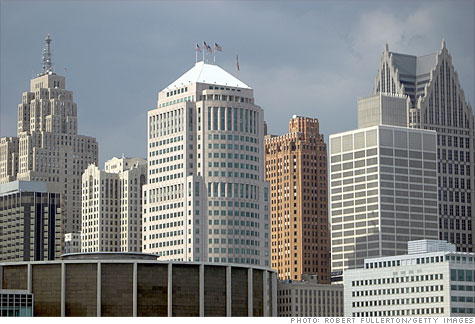 FORTUNE -- The downtown business district of Detroit, Michigan contains precious few beacons of economic optimism these days amid the empty office buildings, vacant lots and unsold condos.
One notable and unlikely bright spot is Somerset, New Jersey-based GalaxE.Solutions. The firm opened its doors a few months ago in a near-empty office tower with a promise by its chief executive officer to hire 500 workers from Detroit over the next five years. Only the landing of a flying saucer might have been more unexpected.
Tim Bryan, who founded and runs GalaxE, is a CEO on a mission to lower the costs of the proprietary software his company builds for some of the nation's biggest corporations. So far he's moved some of his operations to Bangalore and Hyderabad, India; and he has considered Brazil for hiring software talent at the lowest price.
But here's the rub: some of GalaxE's clients specify that their software must be written and maintained in the U.S. "I looked in Newark, I looked in Camden, N.J., I looked in Trenton, in Cleveland, in West Virginia," said Bryan. "I chose Detroit, and I really love the place."
For Bryan, the implosion and restructuring of the U.S. auto industry translates into cheaply priced office space plus an abundance of information technology professionals who can't move to where the jobs are because the value of their houses is under water. His company, which employs 900 worldwide, is projected to more than double in size over the next five years, he said, its growth fueled partly by demand for proprietary software systems that manage health-care, including reimbursement, records and emerging skills such gene mapping.
"For a young IT pro I look around and see low-cost housing, sports teams, casinos, bars and restaurants," he said. "It hearkens to my memory of being a young person in New York City -- the world is your oyster."
Bryan acknowledged that the expected political earthquake on Nov. 2 could have repercussions for new health care legislation, including possible revision. "Certain portions of the genie aren't going back in the bottle," he said. "Universal coverage may be difficult to undo."
So far GalaxE has hired 40 people in Detroit and has openings for 100. The company occupies a three floors in a sparsely-occupied office building, paying $14 a square foot for space compared with $17.25 a square foot in Somerset. A typical IT worker who receives $63,000 in salary in Detroit would earn more than $79,000 in Somerset, according to information provided by the company.
To sweeten GalaxE's move, the state of Michigan is providing more than $5 million in state and local tax incentives over the next five years.
A few blocks south of GalaxE sits the General Motors Co. headquarters on the Detroit River, home to the largest U.S. automaker, which is operating with financial assistance from the U.S. until the government can sell its stake. "In my lifetime no one actually expected GM to go into bankruptcy," Bryan said. "As GM and the auto industry got into trouble the distress of Detroit was understated. It got lost."
Bryan said he hopes to form a partnerships with local community colleges that will lead to training programs to provide future IT workers for his firm and others like it. "All I've heard is about how half the college graduates are leaving Michigan. We've got to do something to stop that."