Cop cars reborn: Big 3 market new cruisers for boys in blue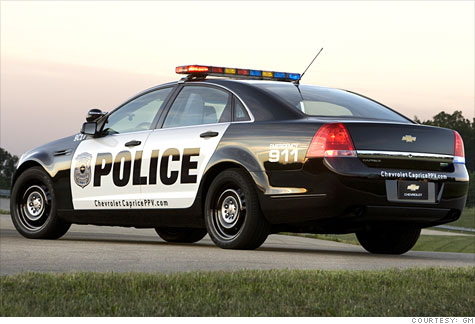 FORTUNE -- General Motors, Ford Motor (F, Fortune 500) and Chrysler always find something to tussle over. The latest prize for the Detroit-based automakers is the U.S. police-car market.
Last weekend the Michigan State Police held three days of tests of new models and old standbys. Though the official results haven't been released, GM's new Chevrolet Caprice seems to have won most of the honors, including the top speed competition at 148 miles per hour and the shortest braking distance from 60 miles per hour, just over 128 feet.
Cops are particular about their cruisers, which require sufficient space to stow Tasers and laptops, as well as to transport bad guys -- and girls -- securely to the pokie. Police cars also need the performance chops to chase crooks as safely as possible at hair-raising speeds. For the last decade, Ford's Crown Victoria has dominated U.S. police-car sales, in part because it's one of the last of Detroit's big rear-wheel-drive sedans.
Police departments often specify rear-wheel-drive vehicles because they're easier to handle in high-speed situations with fast turning and braking. "We were absent in rear wheel drive,'' said Tom Henderson, a GM spokesman. "We've filled that void with the new Caprice.''
The Caprice's big engine is a six-liter V8, developing 355 horsepower. Among the car's new features is a partition that resists tampering by prisoners who manage to escape from handcuffs while in the backseat - a bigger problem, police say, than one might imagine. The new Caprice will be shlepped a long way to serve U.S. law enforcement officers: they're built by GM's Holden subsidiary in Australia.
Ford will halt production of the Crown Victoria next year, scrapping the antiquated platform. The Ford Taurus becomes the largest sedan in Ford's fleet. The Taurus-based Police Interceptor will be a front-wheel-drive vehicle, putting it at a disadvantage to Caprice, though it will come in an all-wheel-drive version too. Another version of the Interceptor will look very much like the new Explorer sport utility vehicle, which also uses the Taurus architecture.
"All wheel drive has never been done before'' in a pursuit-rated police car, said Lisa Teed, a Ford manager responsible for sales to police agencies. "It will allow police officers to drive aggressively, police officers who have driven the Interceptor say four-wheel-drive is easy to get used to.''
The Crown Victoria had been capturing about 70 percent of annual police-car sales, which had reached about 80,000 in the years of most active buying. With municipal budgets stretched, the past few years have been leaner, though Ford maintained its domination. Though the automakers don't break down the profit margins on individual car lines, police cars are thought by analysts to be big moneymakers.
Chrysler's rear-wheel-drive Dodge Charger, like Chevy's Impala, had to be satisfied with a portion of what Ford didn't capture, about a 15 percent share. "We're coming out with an all-new redesigned Charger that we think can capture share for us,'' said Jiyan Cadiz, a Chrysler spokesman. The Charger's standard engine has six cylinders and 3.6-liter displacement. The optional engine is Chrysler's 5.7-liter Hemi with eight cylinders.
So far, Cadiz said, at least one constabulary has been won over to Dodge. That's Auburn Hills, Michigan, home to Chrysler headquarters.