The gold and silver rush is on!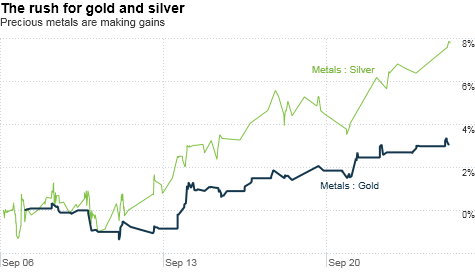 NEW YORK (CNNMoney.com) -- Gold soared to a record high Friday, breaching the key $1,300-an-ounce level, and silver traded at a 30-year high, amid persistent worries about the recovery.
After reaching a peak of $1,301.30 an ounce, gold for December deliver -- the most active contract -- eased to $1,298.10 an ounce, up $1.80 over the prior day's close.
Gold also broke the intraday record of $1,298 that was hit on Wednesday. Early Friday, the yellow metal jumped as high as $1,301.60 an ounce.
Analysts don't see the gold rush ending anytime soon.
All the conditions are there to keep driving gold higher, said Gary Mead, commodities analyst for VM Group in London. A weak dollar, "stubbornly high" unemployment, massive U.S. government debt and "a perception that the federal government is willing to turn a blind eye to" its debt are among the biggest drivers.
"I see the possibility of this carrying on," he said, declining to forecast how high he thinks the precious metal might go.
But he did say a cap for prices would be directly linked to inflation and the possibility of some strong economic data somewhere on the horizon.
"I don't see it rocketing to astronomic highs unless the dollar collapses further," he said. "A lot of this could change very much if we have some good economic figures from the U.S., like manufacturing."
Gold isn't the only precious metal getting attention this week. Silver prices have been on a tear, trading at a 30-year high. Silver prices settled up 18 cents to $21.39 an ounce.
That's still a far cry from its all-time closing high of $48.70 an ounce, reached on Jan. 17, 1980. Silver hit a spot high cash price of $50.35 the following day, said Michael Shore of CME Group.
Investors look to gold and other low-risk investments as safe bets during heightened uncertainty.
Gold hit its true peak on Jan. 21, 1980, when it rose to $825.50 an ounce. Adjusted for inflation in 1980 dollars, that translates to an all-time record of $2,184.08 an ounce, in 2010 dollars.