Who killed the electric motorcycle?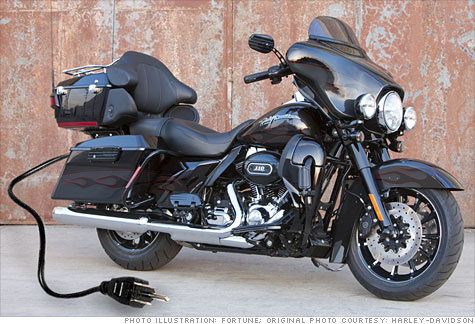 FORTUNE -- When I talk to my motorcycling friends, many of them are hankering for an electric motorcycle. But only, they stress, if it's a motorcycle, not a motor scooter. One friend explained that to motorcycling types, a high-end electric motorcycle would be like going from a Ferrari to a Tesla: "If I was used to driving a Ferrari and you put me in a Tesla I would love it." In other words, high-end Harley riders are not a group interested in the two-wheeled version of, say, a Fiat or Tata.
Unfortunately, they're going to be waiting for quite awhile before they find themselves flying silently down the open road, freedom and their green cred whipping in the wind.
What's killed the electric motorocycle -- or prevented its birth so far -- is different from what killed the electric car the first time around. Harley riders might like the idea of going electric and might even be willing to spend, but companies looking to open a market are much more likely to chase the big volume sales. And those are happening in the developing world, not among the Baby Boomer Gold Wing crowd.
"Motorcycles are a lifestyle choice in North America and much of Western Europe," says consulting firm Pikes Research. "But in the developing world they're used more as primary means of transportation." Today, what passes for an electric motorcycle is more akin to a scooter: zippy, one-speed, and quiet, exactly what the buyers want. And that is the reason that the drivetrain and technical components of two-wheeled electric vehicles are geared more to "getting around town" than to the "road warrior" power and style that motorcycle heads would demand from any bike they own.
Knowing that, it's no surprise that BMW is unveiling an "e-Scooter" concept at the Paris auto show through its MINI division, rather than releasing a high-end, full-blown BMW electric motorcycle. Nathalie Bauters, spokeswoman for MINI, referred to the e-Scooter as a lifestyle product, and said the e-Scooter would be marketed for big urban centers around the world.
But here's what those of us waiting for the arrival of the big brother to those e-Scooters need to understand about why e-motorcycles behind the curve:
Are there electric motorcycles for sale?
Even in the car industry, mass producers have not been early adopters of electric vehicles. The same goes for the motorcycle industry, where niche companies are leading the way.
Gene Banman, CEO of Zero Motorcycles, says they have shipped about 1,000 e-motorcycles since 2008. Sixty percent are street bikes that can go 30 to 40 miles per charge and top out at 67 miles per hour. Banman compares his top electric two-wheel vehicle, or E2WV, to a 250cc internal-combustion-engine motorcycle, without the maintenance headaches.
Why are e-motorcycles accepted in Asia, but not as readily accepted in the U.S.?
Having been to China many times and lived in Japan, I recognized that unlike in the U.S., not every person feels a needs to own a car, but for two different reasons. The Japanese understand that freedom may mean mobility, but that mobility may mean relying on mass transit or a scooter. There just isn't enough space in Japan for everyone to own a car.
China, meanwhile, though not yet beholden to the internal combustion engine and with plenty of wide-open spaces, has a congestion and smog problem in its cities that is killing people. As far back as 2004 a Chinese-financed program called Project 863 devoted $108 million for electric-vehicle research and development.
That R&D effort has only grown, with China recently announcing it will invest $15 billion over the next 10 years, with 16 state-owned companies, to create and build electric vehicles. While most of this will go toward electric cars, the last round of funding included electric motorcycles.
While it may not be ideal that the Chinese government decides what freedom of mobility means for its citizens, the country as a whole is being far more strategic and as a result is further ahead in the electric game than the U.S.
The U.S. has no formal energy policy, and what policy it does have changes with each new administration. Under President Bush most of the Department of Energy research budget went to hydrogen-powered vehicles. When President Obama came in, the hydrogen budget was diminished and money went to electric-vehicle research. It's hard to be competitive when the playbook is always changing.
Are regular motorcycles already so efficient that there's less of a need to convert them to batteries?
Not really. True, the average midsize motorcycle gets 35 to 40 mpg, while the average passenger car gets 21.51 mpg and the average light truck (CUV/SUV) gets 17.22 mpg.
But that only sounds great until you factor in emissions. According to the California Air Resources Board, motorbikes make up 3.6% of registered vehicles and 1% of vehicle miles traveled, yet they account for 10% of passenger vehicles' smog-forming emissions in the state. In fact, the average motorbike is about 10 times more polluting per mile than a passenger car, light truck, or SUV.
Will we see e-motorcycles from the big motorcycle manufacturers?
Bob Klein of Harley-Davidson (HOG, Fortune 500) wouldn't comment on whether his company is building an e-motorcycle, but he does say the company employs the latest and greatest technology to reduce the emissions of his company's models.
That may be true, but if the EPA or the California Air Resources Board (CARB) ever decides to regulate emissions as strictly on motorcycles as they do on cars, we may see a shift to an e-motorcycle sooner rather than later. Even in California though, that's a big if.
A better bet than one on regulation to drive the shift to electric would be on economics. As energy density in batteries gets better and kilowatt-hours get cheaper, analysts agree there will be an increased push for all things electric. Zero CEO Banman says his sales are doubling every year and "every year the energy density is going up 20% and the price per kilowatt hour is going down 30% to 40%."
A generational shift may also help. There is anecdotal evidence of an acceptance of electric vehicles, as well as motorcycles, in the younger generation. As more young people buy electric vehicles, they may well consider taking a look at electric motorcycles too.
But as consumers have made clear in their acceptance of electric cars, we'll only be sure that electric motorcycles have made it when Harley-Davidson brings one out that's wrapped in black leather, sounds, rides, and accelerates like a Harley, and can barrel down some desert highway for 300 miles without a charge.
-- Lou Ann Hammond is the CEO and founder of drivingthenation.com and carlist.com.