Gates charity's other mission: Funding free presses in the developing world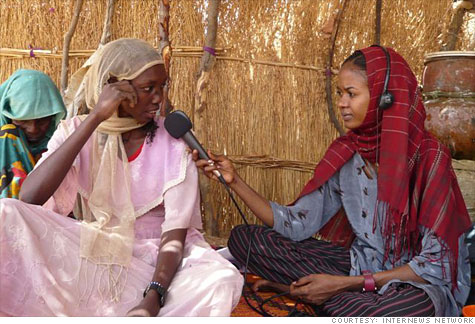 FORTUNE -- On the list of items that US foreign aid gives to the Middle East, radios might not come to mind first. But they're a key part of reinforcing stability in the country, according to Jeanne Bourgault, Chief Operating Officer of a non-profit organization called Internews. Internews tries to build a free press in countries all over the world that don't have one.
Last week, the leaders of the non-profit's new project "Media Map" spoke at Mashable's Social Good Summit in New York about the two main challenges facing the organization. First, it has to justify its reasons for investing its foreign aid money in other countries' media operations. Second, it has to figure out a sustainable business model for media outlets in resource-strapped countries at a time when media outlets in the developed world are rapidly changing.
As for the first problem, "the complex thing for us is this question of cause and effect," says Tara Susman-Peña, the director of research for the Media Map project. Last year, the Gates' stepped in to help answer that question.
The Bill & Melinda Gates Foundation donated over $600,000 to fund Media Map. For the project, Internews will take two years to study how independent journalism across the world can help build strong, economically stable democracies. Susman-Peña says she hopes the study will support the need for future investment.
Internews is still roughly 90% funded by USAID government grants, and 10% funded by private donors. So building a free press is "linked to other priorities," says Susman-Peña, but "we definitely still divorce it from public diplomacy."
It's about empowering the local media to do their own good reporting, and let people decide for themselves. That's really what democracy is based on."
Recently, Internews has worked in Afghanistan, building 42 independent radio stations and training journalists to work in them. In 2009, those stations enabled independent coverage of Afghanistan's second presidential election in history.
That is a tremendous milestone. But like many United States foreign aid projects in the Middle East, there's a question of sustainability. Internews will have to develop self-sustaining funding model for the free press in foreign countries, says Internews COO Bourgault. "It is an industry. It's a social good, but it's also an industry."
So what does the industry look like when it starts in 2010 in countries with limited resources? There is no history of print media to break down, for one, and Internews isn't investing in starting print projects from scratch, says Susman-Peña. In most places where Internews is working, radio serves the non-profit's purposes better. Stations are relatively cheap to build-they can cost under $25,000 each, according to Bourgault, and radio can thrive in areas with low literacy rates.
Mobile, but not smart phones; advertising, but not corporate
Mobile will play a huge role, says Bourgault. People in countries where Internews is working don't necessarily have smart phones, but are definitely interacting on their cells. Internews is looking at ways to use that interactivity to convey vetted, newsy information, including via SMS, or text message.
Radio advertising will look different. It won't involve major corporate players for a while, says Susman-Peña, because the western advertising model runs on market data, which isn't available in many countries with a free press. Take sub-Saharan Africa," she says, "there is just very scattered, poor, uneven data about what the media market is in those rural areas."
One the one hand, a big advertiser is not willing to go in and invest unless they have the data. But market research companies don't want to go in and collect the research unless they know they'll have an audience."
Many of the radio stations Internews has built in rural areas do charge fees for ads, but they work on a small, local level-spots for things like birthday announcements and farm reports.
The Internews mission, that a free press helps stabilize society, often lines up with US government objectives, says Susman-Peña. For example, the US invested in building media outlets in central and Eastern Europe following the fall of the Soviet Union, Latin America during the 80s, and now funds projects in the Middle East. The key is that once these outlets are built, the content takes on a life of its own. In Afghanistan, for example, there's a demand for poetry being read over the local radio, which would never fly in the US.
"The way you tell stories, the way you engage, that's where things get really interesting," says Bourgault. "But when it comes to the desire to tell stories, that's universal."
The studies on the positive economic effects of telling those stories are already underway. The data from the Gates-funded study will start coming out at the beginning of 2011, and the final report on the data will be ready at the end of the year. If Internews can prove that a free press strengthens countries, hopefully they'll be able to offer some advice about how to build one.
The study could also offer some good insight to state of Western media, which lately seems to be too busy tearing down the print media model to pay attention to innovations coming out of countries that are just now finding their voices.