Wal-Mart bets on Africa. Should you?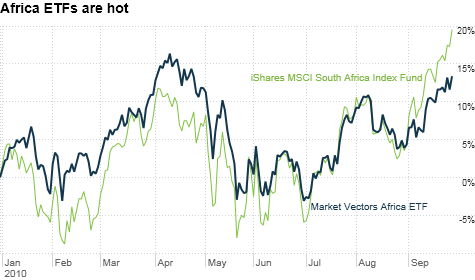 NEW YORK (CNNMoney.com) -- For investors looking at emerging markets, Monday's announcement about Wal-Mart looking to enter South Africa was louder than a bomb.
The retailing giant wants to acquire Massmart, South Africa's third largest chain, in a bid to establish its presence in what many of us consider the final frontier market.
Africa has confounded investors since the very beginning of overseas investing. So far, the challenges of poverty, disease, violence and corruption have outweighed the positives, such as the vast natural resources of the continent and the potentially cheaper-than-China labor force.
This may be changing as mineral wealth finds its way to the people, who in turn seek a better standard of living like the formerly poor in so many other developing regions of the world.
So when companies like Wal-Mart (WMT, Fortune 500) or McDonald's (MCD, Fortune 500), which also has a presence in Africa, make a foray into an emerging market, they are signaling, to some extent, that they've done the homework and that there is enough potential in that country to justify the logistical, financial and infrastructure costs.
As formidable as the challenges are in a place like South Africa, it is important to remember that ten years ago corruption, violence, civil strife and political uncertainty also dogged Russia and Eastern Europe. But investors who braved the "difficult investing climate" were rewarded handsomely.
Investing in fragmented markets like Africa is not for the faint of heart, but one method cautious investors may find palatable would be through an Africa-focused ETF. The below rundown is not meant to be a list of recommendations, but rather a jumping off point for your own African research safari.
Market Vectors Africa Index (AFK) AFK probably offers the broadest exposure to Africa as it seeks to replicate the performance of the Dow Jones Africa Titans 50 index. While it does hold a wide variety of both local shares and ADRs, the fund has a few flaws to be aware of.
For starters, it only has around $60 million under management. It is also highly exposed to the banking sector, which makes up about 42% of the holdings. This is not necessarily a fatal flaw; a recent Barron's article gave Africa's large banks higher marks than their European and American brethren.
iShares MSCI South Africa Index (EZA) This offering from Barclays (BCS) is based on the widely-followed MSCI index for South Africa, the most developed of all African nations.
As can be expected, the largest sector weighting is toward basic materials at 30%. Gold miners and oil companies make up the bulk of this fund, followed by the banks. MTN Group, the nation's largest telecom, gets a 10% weighting.
If you believe that Wal-Mart's entry into South Africa will push the country's modernization, this fund would be the right way to get exposure. But it is a big if, of course, at this early stage.
PowerShares MENA Frontier Countries Portfolio (PMNA) This ETF seeks to give you exposure to the other end of the continent, namely Northern Africa and the Middle East. There is an interesting mix here of countries that are in vastly different stages of development.
Jordan and Morocco, two of the riskiest markets in the region, make up a combined 24% of the fund. In the meantime, their more developed neighbors like Kuwait and the UAE make up a bit more than 40%.
Investing in Africa carries all of the excitement of the more mainstream emerging markets but significantly more risk. Investors who wish to follow Wal-Mart's lead should do so cautiously, as the $200 billion behemoth from Bentonville, Ark. can afford to take on a lot more risk than the rest of us.
The improving markets of Africa may represent the final investing frontier but homework will be the key.
Joshua Brown is a New York City-based financial advisor at Fusion Analytics and the author of The Reformed Broker blog. The commentary above is for informational purposes only and does not in any way constitute a solicitation to buy or sell any securities.