SABMiller has its eye on emerging markets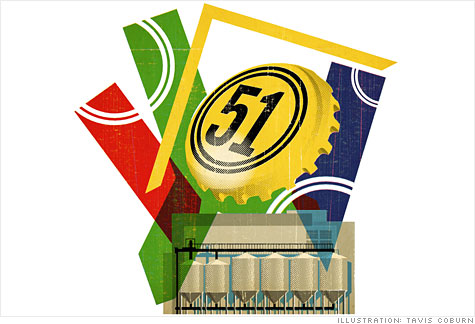 FORTUNE -- South Africa may not have made it big at this year's World Cup, but its local beer -- Castle Lager -- did; SABMiller, Castle's brewer, expects to sell an extra 30 million bottles' worth. Yet most of the growth for this $26-billion-in-sales company is coming not from its home base but from its bold expansion abroad.
SABMiller's focus on emerging markets is a big reason that the No. 2 global brewer moved up four spots in Fortune's 2010 World's Most Admired Companies survey, to No. 3 among beverage companies. According to a new Deutsche Bank analysis, SAB has the most exposure of the top four global brewers over the next five years to the fastest-growing beer markets like China, India, and Colombia, where consumers are spending their newfound wealth. That helped SABMiller boost fiscal 2010 sales by 4% and profits by 1.5%, to $1.9 billion, even amid a recession. "They've been very aggressive to get a good position in some of the most interesting markets," says Tom Pirko of Bevmark, an adviser to global drink companies.
Originally called South African Breweries, SAB moved to London in 1999 and began a decade-long, $17 billion acquisition binge, buying companies like India's Narang and Colombia's Bavaria. After spending $7.8 billion for Bavaria in 2005 -- even more than the $5 billion it paid for Miller three years earlier -- SAB worked to expand beer consumption in the country, and then introduce consumers to its premium brands.
It added new refrigerators to local shops, relaunched the upscale Club Colombia lager, and then imported its Peroni brand, marketing it as the epitome of Italian style. As developed markets sputtered, beer sales in Colombia, where SABMiller controls 98% of the market, averaged 4% annual growth.
Now SAB is looking to conquer China, where it sells Snow, the world's largest beer brand (passing Bud Light last year). In the next five years the country will account for 40% of SAB's volume growth, predicts Deutsche Bank (DB). In China, the average household drinks just over 30 liters a year, compared with 80 liters in the U.S. "At some point China's growth rate will have to slow," says CEO Graham Mackay, "but we believe there is still significant upside." SAB's future depends on it.