Stocks: Bracing for a rocky October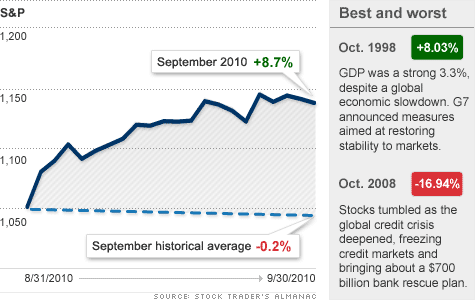 NEW YORK (CNNMoney.com) -- Stocks closed out the best September in 71 years last week, but don't break out the champagne yet. October trading is likely to be choppy as uncertainty looms over the market.
September's run-up was spurred by economic readings that managed to beat painfully low expectations, said Alec Young, equity strategist at S&P Equity Research.
"The psychology and expectations about the economy had just gotten so depressed in August and double-dip fears were prevalent, so we got a relief rally in September when economic reports started coming out that weren't great but just weren't as bad," he said.
That relief is now subsiding amid a new wave of uncertainty about the economy ahead of the the government's monthly employment report, the first wave of corporate earnings and November's midterm elections.
But while that uncertainty is likely to stifle further rallies, it doesn't mean the market won't gradually make its way higher, Young said.
"The 9% months are over," said Young, referring to the S&P's 8.7% spike in September, its biggest September gain since 1939. "We're likely to continue seeing this upside, but it will be more like a slow grinding higher, not sprinting higher."
Jobless recovery?: Investors will be looking to a slew of reports on employment this week for hints of how "jobless" the recovery really is.
On Wednesday, payroll services firm ADP is expected to report that employers in the private sector added 18,000 workers to their payrolls in September after cutting 10,000 in the previous month. Outplacement firm Challenger, Gray & Christmas issues its report on planned job cuts in September.
The government's weekly jobless claims report comes out Thursday, with 455,000 Americans expected to file new claims for unemployment, after 453,000 were filed in the previous week.
And the most closely watched reading on employment is due Friday. Employers aren't expected to have added or cut any jobs in September after cutting 54,000 jobs in August. The unemployment rate is expected to have risen to 9.7% from 9.6%.
Midterm elections: The stomach churning ahead of the midterm elections -- which could bring with it new regulation and tax policies -- is likely to keep investors from jumping in, said Brian Battle, director of Performance Trust Capital Partners.
"Everyone takes their bets off the table before an election because of three levels of uncertainty," said Battle. "The first unknown is if conservatives re-take the House or Senate, the second is if they do, what their policies are going to be and whether they get them voted on, and the last thing is whether Obama vetoes it."
Earnings: The uncertain political climate is also causing businesses to exercise caution, said Battle.
"If Republicans do take the House, that will be good for companies and good for the markets because it will be a very pro-business environment," said Battle. "But until we have that clarity, it's really tough for corporations to make business decisions and project future earnings without knowing what tax policies and regulation will look like."
Corporate earnings kick off this week, with results from Alcoa, Costco and PepsiCo on deck.
Monday: The National Association of Realtors' pending home sales index, a measure of sales contracts for existing homes, is due before the start of trading and is expected to have risen 1% in August after rising 5.2% in July.
Factory orders are due from the Commerce Department. Orders are expected to have fallen 0.4% in August after rising 0.1% in July.
Tuesday: The Institute for Supply Management's services sector index for September is due in the morning and is expected to have edged up to 51.8 from 51.5 in August. Any number above 50 indicates growth in the sector.
Wednesday: In addition to reports on employment from ADP and Challenger, the U.S. government's weekly crude oil inventories report is due in the morning.
Costco is scheduled to release its third-quarter results before the opening bell. Analysts are expecting the company to post earnings of 95 cents a share.
A report from the Mortgage Bankers Association on the number of applications for mortgages is also on tap.
Thursday: In addition to the Department of Labor's report on jobless claims, the August consumer credit report from the government is due in the afternoon.
Credit is expected to have fallen by $3 billion after slipping $3.6 billion in July.
PepsiCo is on tap to report earnings before the start of trading. Economists expect the company to book earnings of $1.22 a share.
After the market close, Alcoa is slated to release its third quarter results, expected to report earnings of 6 cents a share.
Friday: In addition to the big jobs report, the Commerce Department releases the wholesale inventories report in the morning. Inventories are expected to have risen 0.4% in August after jumping 1.3% in July.