Stocks post best September in 71 years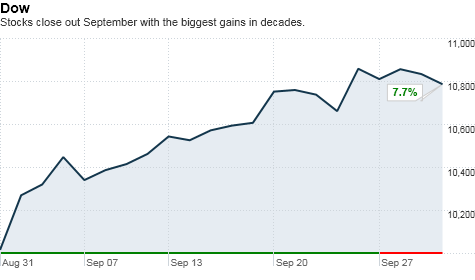 NEW YORK (CNNMoney.com) -- U.S. stocks fizzled Thursday, but that didn't stop the market from logging its best September in decades.
Dow Jones industrial average (INDU) slipped 47 points, or 0.4%, after soaring more than 100 points at the start of trading. The S&P 500 (SPX) fell 4 points, or 0.3%, and the Nasdaq (COMP) ticked down 8 points, or 0.3%.
Economic jitters have kept stocks from breaking out of a narrow range this week. And while upbeat readings on employment and economic growth helped spark an early rally Thursday, gains subsided as worries about the euro zone bubbled up.
Despite the stomach churning month, stocks ended September on a high note. The Dow jumped 7.7%, the biggest September gain in 71 years. The S&P also posted the biggest gain since 1939, rising 8.7% in the month, while the Nasdaq climbed 12%.
All 30 Dow components were on track to end September with gains, as of Wednesday's market close. Caterpillar (CAT, Fortune 500), Alcoa (A, Fortune 500), GE (GE, Fortune 500), Home Depot (HD, Fortune 500) and 3M (MMM, Fortune 500) are among the biggest gainers.
And only 18 of the S&P 500 were down on the month. Carmax (KMX, Fortune 500), JC Penney (JCP, Fortune 500) and Office Depot (ODP, Fortune 500) are among the biggest gainers on the broader index.
"There was a lot of talk this summer about a double-dip recession, and while it's true things have slowed down, the technicals have really changed and it's a much more healthy environment now," said Kenny Landgraf, principal at Kenjol Capital Markets.
Economy: The number of Americans filing for unemployment insurance edged down to 453,000 in the week ended Sept. 25, according to the Labor Department. The figure was slightly better than the 457,000 jobless claims economists had expected.
"The big bash against this recovery has been that it's a jobless recovery ... so investors are obviously going to take that [report] well," said Landgraf.
Meanwhile, the Commerce Department released its final reading on second-quarter gross domestic product, raising it slightly to a gain of 1.7% from the previously reported 1.6%.
Economists surveyed by Briefing.com had expected the figure to remain unchanged.
World markets: Despite the wave of upbeat readings on the U.S. economy, bad news from overseas reignited fears about a slowing global recovery.
Ireland's central bank unveiled a bank bailout that could reach about $46 billion. Ireland's budget deficit is on track to hit 10 times the European Union guidelines for eurozone members. Meanwhile, Moody's downgraded Spain's credit rating.
"These are just further signs that we've covered up the European financial situation and tried to push it aside, but it's really still a big issue," said Dean Barber, president of Barber Financial group.
European stocks slumped. France's CAC 40 fell 0.6%, Britain's FTSE 100 dipped 0.4% and Germany's DAX lost 0.3%.
Asian markets shares ended mixed. The strong yen continues to plague Japanese stocks, with the Nikkei ending down 2%. The Hang Seng in Hong Kong lost 0.1%, while the Shanghai Composite rose 1.7%.
Companies: AIG (AIG, Fortune 500) took a major step toward paying back its government bailout Thursday, after announcing an agreement to pay down its debt to U.S. taxpayers. Part of this includes the insurer's plan to sell its Japan-based units for $4.8 billion. Shares of AIG gained more than 4%.
Shares of Johnson & Johnson (JNJ, Fortune 500) slipped less than a percent after CEO William Weldon took responsibility for the company's recall issues and admitted to hiding a Motrin recall effort.
Overall, Johnson & Johnson's stock has emerged unscathed from the recall issue as investors have largely shrugged off the issue since there were no reports of people getting sick.
Currencies and commodities: The dollar rose against the euro and the British pound, but fell versus the Japanese yen.
On Wednesday, Congress overwhelmingly passed legislation to impose tariffs on China for undervaluing its currency, the yuan, in order to keep export prices cheap.
Gold futures for December delivery slipped 70 cents to settle at $1,309.60 an ounce, after hitting another intra-day trading record of $1,316.20 an ounce earlier in the session.
Crude oil futures for November delivery gained $2.11 to settle at $79.97 a barrel.
Bonds: The price on the benchmark 10-year bond fell, pushing up the yield up to 2.52% from 2.5% late Wednesday.