Stocks kick off October with gains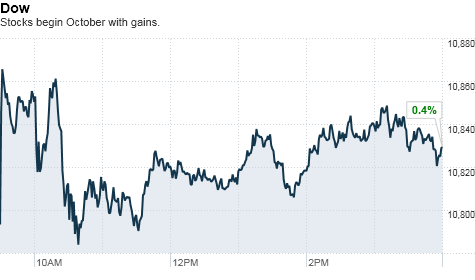 NEW YORK (CNNMoney.com) -- U.S. stocks began the new month higher, clawing out gains Friday as a better-than-expected reading on personal income overshadowed a mixed manufacturing report.
The Dow Jones industrial average (INDU) ended 42 points higher, or 0.4%, after gaining more than 70 points earlier. The S&P 500 (SPX) rose 5 points, or 0.4%, and the Nasdaq (COMP) edged up 2 points, or 0.1%.
Stocks finished lower Thursday, but the Dow and S&P 500 still managed to close out the month with their biggest September gains since 1939.
A slightly better-than-expected report on the state of the consumer helped push stocks higher Friday, said Alec Young, equity strategist with S&P Equity Research.
"The consumer is a big source of concern right now, so those numbers being strong was a good sign," he said. "Expectations are still so low that the numbers today were able to easily exceed them."
But an early rally lost some momentum after a key reading of U.S. manufacturing activity fell to a 9-month low, reminding investors that the United States is in for a prolonged period of sluggishness, said Peter Boockvar, chief market strategist with Miller Taback & Co.
Additionally, many investors are holding off on big bets ahead of the midterm elections in November, which will determine control of Congress.
Boockvar said the darkening economic outlook and recent comments from Fed officials have raised expectations that the central bank will accelerate its purchases of U.S. Treasurys -- a policy called quantitative easing -- later this year.
While the move is designed to aid the economy by keeping long-term interest rates low, some investors worry that it could stoke inflation over the long-term. As a result, the U.S. dollar has gone into a tailspin.
The weak dollar has fueled interest in commodities that are priced in the U.S. currency. Gold, which is considered a hedge against inflation, rose to a record high, and oil prices also rallied.
Economy: The Institute for Supply Management said its index of manufacturing activity slipped to 54.4 in September, from 56.3 in August. Any reading above 50 indicates growth in the sector.
Economists had expected a reading of 54.8, according consensus estimates from Briefing.com. The ISM report also showed that new orders for manufactured goods slowed significantly in August, and that production has also declined.
The report raised fears that the recovery in manufacturing activity is losing steam. A report on manufacturing activity in China helped temper some concerns.
Separately, the U.S. Commerce Department said personal income increased 0.5% in August, while spending rose 0.4%. Economists expected both consumer spending and income to have risen 0.3% in August.
Meanwhile, the Securities and Exchange Commission and the Commodity Futures Trading Commission said in a report Friday that a large investor using an automated trading software to sell futures contracts sparked the stock market "flash crash" on May 6.
Automakers: Auto sales were up from a year ago but failed to gain momentum in September, according to sales figures from major automakers released Friday.
General Motors reported an 11% increase in September sales compared to a year ago, when both dealer inventories and customer demand were severely depressed by the end of the Cash for Clunkers program. But sales fell 6% from August.
Ford (F, Fortune 500) sales jumped 46% from a year ago, but only 2% from August, while Chrysler reported a 61% surge in sales from a year ago, but sales bumped up less than 1% from the previous month. Toyota (TM) posted a 17% increase compared to a year earlier, but sales were down 1% from August.
Companies: The United Airlines and Continental Airlines merger is complete, under the holding company United Continental Holdings, Inc. The company's common stock, which began trading Friday under the ticker symbol UAL (UAL), was up 5.5%.
Hewlett-Packard named Léo Apotheker as its new president and CEO late Thursday. Apotheker previously held top roles at SAP (SAP), including a brief stint as CEO. Shares of HP (HPQ, Fortune 500) fell 3%.
BP will use assets in the Gulf of Mexico as collateral for its $20 billion fund for oil spill victims, the company said Friday. BP permanently sealed its Macondo well on Sept. 19, after an oil spill that started there dragged on for more than 5 months. BP (BP) shares rose 1.9%.
World markets: European shares ended mixed. Britain's FTSE 100 rose 0.8%, Germany's DAX fell 0.3% and France's CAC 40 slid 0.6%.
Asian markets finished the day mostly higher on China's upbeat manufacturing data. The Shanghai Composite soared 1.7%, while Japan's Nikkei rose 0.4%. The Hang Seng in Hong Kong edged lower to 0.1%.
Currencies and commodities: Commodities continued to have a strong showing Friday, while the dollar remained weak.
Crude oil for November delivery surged past $80 a barrel, gaining $1.61, or nearly 2%, to settle at $81.58 a barrel after hitting 7-week highs earlier in the session.
Gold for December delivery climbed to another all-time high, adding $8.20 to settle at $1,317.80 an ounce. The precious metal also touched another intraday record of $1,322 an ounce earlier Friday.
Copper for December delivery gained 3.9 cents to $3.69 a pound, the highest level since July 31, 2008.
Meanwhile, the dollar slipped to a 6-month low against the euro and edged lower versus the Japanese yen and the British pound.
Bonds: The price on the benchmark 10-year Treasury bond rose, pushing down the yield to 2.51% from 2.52% late Thursday.