Does job retraining actually work?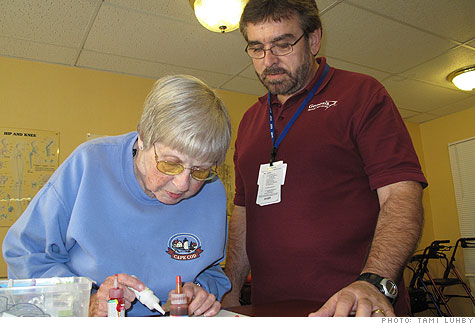 NEW YORK (CNNMoney.com) -- After spending more than three decades in a factory, Alan Moniz now works at a rehabilitation center, teaching people how to get out of bed and put on their shoes.
The 59-year-old embarked on a new career as an occupational therapy assistant after being laid off from Revere Copper Products in 2007. Rather than stay in manufacturing, he decided to go through a job retraining program and now helps the elderly and those recovering from surgery and accidents to get back on their feet.
"This feels more fulfilling," said Moniz, who works at the Bourne Manor Extended Care Facility in Massachusetts. "You go home at the end of the day and feel you've made someone's life better."
Moniz' success story, however, is probably more the exception than the rule. With nearly 15 million people unemployed in America, many of them are flocking to community colleges, certification classes and other retraining programs in hopes of landing work.
The results are mixed, experts say. Some are able to find positions. But many graduate and do not find employment, crowded out by those with more experience in those fields.
In fact, of the 100 or so who were laid off with Moniz, only a dozen or so went back to school. Among their choices: auto parts delivery, tractor trailer driving and heavy equipment operation. Of those, most are not working in the fields they studied, he said.
"I consider myself blessed that I found a job," said Moniz. "Most of those I worked with don't have jobs or have jobs that aren't comparable to what they had at Revere."
One reason why Moniz has done so well is that he did his homework before starting school. Initially, he looked at refrigeration and air conditioning repair, but reconsidered because he didn't want to be standing on ladders in his late 50s.
He then explored health care. A two-time cancer survivor, he wanted to do more to help others and he knew that jobs were more plentiful in that industry.
Going back to school
So he signed up for an occupational therapy assistant degree program at the New England Institute of Technology in Warwick, R.I.
The school has seen its enrollment rise during the recession as laid-off workers search for new careers, said Steven Kitchin, the college's vice president for corporate education and training. Healthcare, including nursing, therapy and surgical technology, is among the most popular fields to study.
"There is a need for personnel to care of the aging population," Kitchin said.
Three of his former co-workers also joined the program, all of them struggling at first to relearn how to take notes, study and take tests. The retraining was paid for by the federal government, which also provided Moniz and his buddies with unemployment benefits while they were in school.
Two couldn't hack it and dropped out. But he and his friend persevered and graduated in June 2009, Moniz with honors. By the fall, they were both employed with Genesis Rehab Services.
Now he helps patients at Bourne Manor prepare for independent living. For instance, he shows them how to use an aid to put on their socks or advises them to keep their shaving cream on a lower shelf so it's easier to reach. He works with them on getting in and out of beds, showers and cars, as well as setting up and using their kitchen safely.
On a Tuesday afternoon in September, Moniz worked with Joan Horton, 80, who was at Bourne Manor for various ailments. First they stood together over a table as she squeezed paint from a tube into a sun catcher. This helped her work on hand dexterity and the ability to stand. Then Horton had to pick up small sacks from the floor with a claw-tipped stick to train her in using the aid and to practice balancing.
"When you get them to do something independently, they can't thank you enough," he said.
Unlike many who switch careers, Moniz earns as much as he did in the factory, noting that it took him 30 years to get to that pay grade. He could make even more if he accepted overtime assignments, but he prefers to spend those hours with his 2-year-old grandson.
His second career, however, will be a relatively short one. Moniz, who turns 60 in November, only plans to work full-time for another five years. After that, he'll likely work two days a week on a per-diem basis since he thinks working keeps the mind and body healthy. Going into healthcare allows him that flexibility, as well as letting him spend more time with his family in his semi-retirement.
"By then, my grandson will be older and I can watch him play baseball," he said.