Wall Street focuses on the 'three Es.'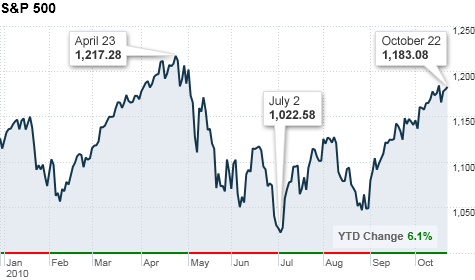 NEW YORK (CNNMoney.com) -- Investors are bracing for an onslaught of news this week: The earnings avalanche continues, midterm elections are approaching and economic data are due in a bunch of sectors.
Those "three Es" are a lot for investors to digest individually, and this week's triple-whammy could bring volatility to a market that's been behaving somewhat normally.
Stocks have been rising for several straight sessions, selling off for a day of bad news, then repeating the pattern. The increases are based on two big bets investors are making for the first week of November: that the Federal Reserve will launch a new round of asset purchases and that Republicans will win control of the House after midterm elections.
"Next week is key for investors who are trying to cement their positions ahead of the November news," said Fred Dickson, chief market strategist at D.A. Davidson & Co.
Plus, this week brings a raft of economic reports: third-quarter GDP, housing and consumer sentiment are among those on tap.
Though earnings so far have been strong, some experts are concerned the market is vulnerable to big sell-offs in the coming weeks because stocks have surged so steadily.
Last week, the Dow and S&P posted 0.6% gains, while the Nasdaq added 0.4%.
Monday: The National Association of Realtors will release its monthly report on existing home sales, which economists polled by Briefing.com expect rose to an annual rate of 4.25 million in September from 4.13 million the previous month.
Tuesday: The Case-Shiller 20-City index of home prices in major metropolitan areas for August is due shortly after the market opens. Economists expect a 2% jump after the previous month's 3.2% gain.
At 10 a.m. ET, the Conference Board will release a reading on consumer confidence for October. The index is expected to have ticked up to 49 from 48.5 in September.
Wednesday: Before the start of trade, the Commerce Department will release its report on orders for durable goods, which are items meant to last three years or more. Economists polled by Briefing.com predicted the number of durable orders increased by 1.7% in September after a 1.3% drop the previous month.
Before the start of trade, Comcast (CMCSA, Fortune 500) and Procter & Gamble (PG, Fortune 500) will release quarterly earnings.
Later Wednesday, the Commerce Department will also report on new home sales for September. Analysts expect sales of newly constructed homes rose to an annual rate of 295,000 last month from 288,000 in August.
Thursday: The Department of Labor will release weekly jobless claims figures before the start of trade. The number of Americans filing new claims for unemployment is expected to have hit 455,000, from 452,000 the previous week.
Before the opening bell, 3M (MMM, Fortune 500), Exxon Mobil (XOM, Fortune 500) and Motorola (MOT, Fortune 500) will report earnings.
Microsoft (MSFT, Fortune 500) will release its earnings data after the closing bell.
Friday: The first reading on gross domestic product (GDP) growth in the third quarter is due before the start of trading. GDP likely grew at a 2% annualized rate, according to estimates, after growing at a 1.7% annualized rate in the second quarter.
The Chicago PMI, a regional reading on manufacturing, is due shortly after the start of trading for the month of October. Analysts expect the index fell to 57.5 from 60.4 in September. Any index reading over 50 indicates expansion.
The University of Michigan's consumer sentiment index for April is also due after the start of trade. The index is expected to have inched up to 68 in October from 67.9 the previous month.