Stocks rally to 6-month highs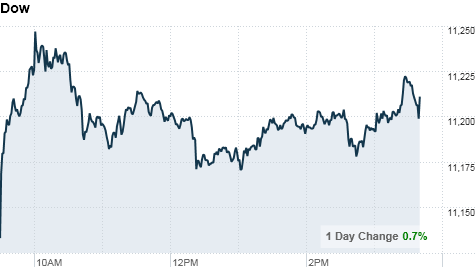 NEW YORK (CNNMoney.com) -- Stocks climbed to 6-month highs Monday after a report on housing sales came in much better than expected.
The Dow Jones industrial average (INDU) added 31 points, or 0.3%, to close at 11,164, its highest level since April. The S&P 500 (SPX) increased 3 points, or 0.2%, to 1,185 and the Nasdaq (COMP) was up 11 points, or 0.5%, to 2,491.
All three indexes had been up nearly 1% earlier in the morning, after the release of a strong report on existing home sales. Gains receded slightly as the day continued, but most sectors were still strong -- 23 of the 30 blue-chip Dow components were higher at the closing bell.
It marked the second time in the past week that the Dow briefly passed its highest closing level for the year. The blue-chip index rose as high as 11,247.60 earlier Monday; the year's highest close was 11,205.03 on April 26. The intraday peak for the year was 11,258, also on April 26.
In addition to the strong housing data, stocks have recently gotten a boost from strong corporate earnings and bets that Republicans will win control of the House next week -- a shift that market participants believe will further lift stocks.
"President Obama has come out and said, 'I'm pro-business,'" said Kenny Landgraf, principal and founder at Kenjol Capital Management. "But if you have to keep insisting something over and over, it starts to sound like it isn't true."
Experts thought the election bets were already baked into the market, Landgraf said, but stocks have continued a somewhat steady climb throughout October.
Stocks ended mixed Friday, as investors balanced strong U.S. corporate earnings against currency tensions at the G-20 summit in South Korea.
Economy: Before Monday's open, Federal Reserve Chairman Ben Bernanke said that a federal agency review of foreclosure procedures at the nation's largest mortgage servicers should be completed next month.
Bank stocks have been under pressure in recent weeks, though, as mortgage servicers reviewed documents after allegations of sloppy paperwork surfaced. Bank stocks felt the blow, with JPMorgan (JPM, Fortune 500) down 1.7% and Bank of America (BAC, Fortune 500) off 2.5% Monday.
In its October industry survey, the National Association for Business Economics (NABE) said Monday that employment conditions improved in the third quarter to the highest level since the start of the 2008-2009 recession. The survey also showed expectations for hiring over the next 6 months rose to the highest level since 2006.
The National Association of Realtors released a report that said existing home sales shot up 10% over the month, to an annual rate of 4.53 million in September. Analysts surveyed by Briefing.com expected an increase to a rate of just 4.25 million.
Companies: After the bell, Texas Instruments (TXN, Fortune 500) reported third-quarter earnings per share of 71 cents, stronger than the 69 cents per share expected by analysts. Shares of the company rose 0.2% in evening trading.
Office Depot (ODP, Fortune 500) announced that CEO Steve Odland, who has led the company since 2005, is resigning his post effective Nov. 1.
The office supplies retailer also said it expected earnings per share of 18 cents for the third quarter. Shares of Office Depot rose 3.5%.
World markets: European stocks closed higher Monday. Britain's FTSE 100 added 0.2%, Germany's DAX rose 0.5% and France's CAC 40 gained less than 0.1%.
Asian markets ended the session mixed. The Shanghai Composite rose 2.6%, while the Hang Seng in Hong Kong was up 0.5%. Japan's Nikkei dropped 0.3%.
Currencies and commodities: The dollar edged lower against the euro and British pound, and it fell against the yen to as much as ¥80.41 -- a 15-year low.
Oil for December delivery gained 83 cents to settle at $82.52 a barrel.
Gold futures for December delivery rose $13.80 to settle at $1,338.90 an ounce.
Bonds: The price on the benchmark 10-year U.S. Treasury fell slightly late in the afternoon, pushing the yield up to 2.57% from 2.56% on Friday.