Stocks falter on questions about Fed stimulus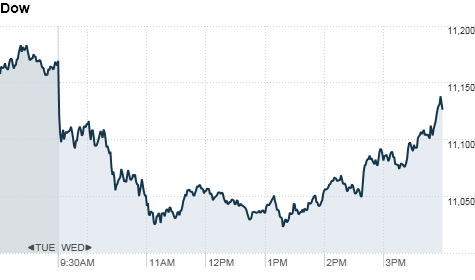 NEW YORK (CNNMoney.com) -- Stocks closed mixed Wednesday, with technology shares posting small gains, as investors lowered their expectations for an aggressive move by the Federal Reserve to stimulate the economy.
After falling over 130 points earlier in the day, the Dow Jones industrial average (INDU) closed down 43 points, or 0.4%. The S&P 500 (SPX) slid 3 points, or 0.3%. But the Nasdaq (COMP) gained 6 points, or 0.2%, to close above 2,500 points.
Stocks had been climbing for weeks on speculation that the U.S. central bank will announce another round of asset purchases at the end of its next policy meeting on November 3. But investors said the market may have over estimated the size and timing of the expected policy, known as quantitative easing.
"The headlines today are that the Fed's effort to rescue the economy may not be the shock-and-awe campaign many had expected," said Mark Luschini, chief investment strategist at Janney Montgomery Scott. "That's taking some of the fun out of the market."
Luschini said investors are now expecting the Fed to take a more "measured approach" to quantitative easing. "We're likely to see the Fed doing it in a stair step fashion to see if it's getting traction," he said.
The change in sentiment came after a report in the Wall Street Journal said the Fed is likely to buy "a few hundred billion" worth of Treasuries over a period of "several months." Market participants had been expecting the Fed to announce plans to buy an additional $500 billion to $1 trillion worth of Treasuries.
In addition, Bill Gross of PIMCO, the largest U.S. bond fund, wrote in his most recent outlook that he thinks the Fed is setting the stage for a future bout of inflation.
But the toned down expectations helped support the U.S. dollar, which gained ground against the euro, pound and yen. The stronger buck weighed on commodities priced in the U.S. currency. Oil futures fell 0.7%, while gold futures lost over 1%.
Shares of energy companies led decliners on the Dow, with Chevron (CVX, Fortune 500) and Exxon (XOM, Fortune 500) both down about 2%. Industrial names Caterpillar (CAT, Fortune 500) and Boeing (BA, Fortune 500) were also down sharply.
But the technology sector was generally stronger, driven by gains in shares of semiconductor companies such as Broadcom.
Shares of some big banks, which had been beaten down recently, were also higher. Bank of America (BAC, Fortune 500) gained 2% and JPMorgan (JPM, Fortune 500) edged up nearly 1%.
After the market closed, Visa (V, Fortune 500) said fiscal fourth-quarter profits rose 51% over last year on strong sales performance across all business lines. But shares of the credit card provider fell 1.5% in after hours trading.
Meanwhile, investors largely shrugged off economic reports on durable goods orders and new home sales in September. But traders said there was some trepidation ahead of next week's midterm elections to determine which political party will control of Congress.
Companies: Shares of Sprint (S, Fortune 500) fell nearly 10% after the company reported a loss of 30 cents per share, which the company said was caused by a massive tax-related charge.
German software maker SAP (SAP) said third-quarter earnings rose 11% versus last year, though results were below analysts' forecast. Shares fell 5%.
Chipmaker Broadcom (BRCM, Fortune 500) reported strong third-quarter results and said it expects growing demand for wireless services to support profits in the future. The company's stock gained over 11%.
Results from Procter & Gamble beat expectations by 2 cents, posting earnings per share of $1.02. The company reported growth in all geographic regions, with their shippment volumes rising 8%. Shares rose 0.2%.
Comcast (CMCSA, Fortune 500) also beat analyst expectations, reporting earnings per share of 30 cents -- a decrease from the 33 cents posted last year. The company said a large chunk of revenue loss is due to NBC Universal integration-related costs. Shares gained nearly 3%.
Tech infrastructure firm CommScope (CTV) announced that it has reached an agreement to be purchased by asset manager The Carlyle Group, in a transaction valued at about $3.9 billion.
The New York Post reported that Google (GOOG, Fortune 500) is close to striking a $2 billion deal for a building in Manhattan that occupies an entire city block. Google currently rents office space in the building.
Economy: The Commerce Department said new orders for manufactured durable goods in September increased $6.3 billion or 3.3%, after falling 1.3% in August.
Economists surveyed by Briefing.com had expected an increase of 1.8%. However, orders excluding transportation were down 0.8%, which was worse than expected.
A separate report showed that sales of newly built single-family homes rose 6.6% in September to an annual rate of 307,000 units. Economists had expected an annual rate of 299,000 units in the month, compared with 288,000 units the month before.
World markets: European stocks also tumbled. Britain's FTSE 100 dropped 1%, the DAX in Germany lost 0.7% and France's CAC 40 declined 0.9%.
Asian markets ended their session mixed. Japan's benchmark Nikkei index rose 0.1%, and the Hang Seng in Hong Kong lost 1.9%. The Shanghai Composite ended down 1.5%.
Currencies and commodities: The dollar continued to strengthen against the euro, the British pound and the Japanese yen.
Oil futures for December delivery dropped 59 cents to $81.96 a barrel. The government's weekly oil inventory report showed Wednesday that oil and gas supplies rose more than expected last week.
The drop in oil prices followed a U.S. Geological Survey report that showed revised estimate for the amount of conventional, undiscovered oil in the National Petroleum Reserve in Alaska. The agency said untapped oil reserves are about 90% less than previously estimated.
Gold for December delivery fell $15.30 to $1,3227 an ounce.
Bonds: Prices on U.S. Treasuries fell, pushing yields higher. The benchmark 10-year note yield rose to 2.7% from 2.64% late Tuesday. The government is expected to auction off $35 billion of 5-year notes on Wednesday.