Stocks at a standstill ahead of Fed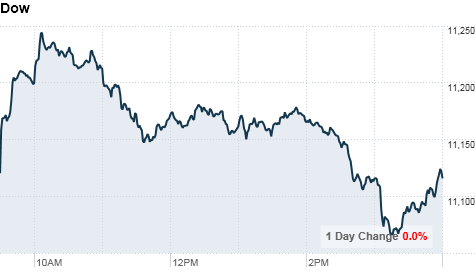 NEW YORK (CNNMoney.com) -- Stocks ended a choppy session little changed Monday as investors remained jittery ahead of the week's three big events -- the midterm elections, the Federal Reserve meeting and the October jobs report.
After soaring more than 100 points earlier in the session, the Dow Jones industrial average (INDU) ended just 6 points higher. The S&P 500 (SPX) edged up 1 point, and the Nasdaq (COMP) fell 3 points.
Stronger-than-expected readings on U.S. and Chinese manufacturing growth sparked an early buying spree.
But gains were muffled as investors turned their focus back to the upcoming election and the Fed's policy statement on Wednesday.
Expectations of additional stimulus from the Federal Reserve and bets that Tuesday's congressional elections will favor the Republicans have buoyed markets since late August. But this is a pivotal week.
"All that really matters now is the Fed coming in with a boat-load of money," said Joseph Saluzzi, co-head of equity trading at Themis Trading. "The only reason the market has been going higher for the past two months is because of these expectations of Fed money-pumping."
The Dow is coming off its best October since 2006, but stocks have moved sideways over the last week.
Economy: The Institute for Supply Management's manufacturing index jumped to 56.9 in October from 54.4 in September. That easily beat the reading of 54 expected by economists. Any reading above 50 indicates growth in the sector.
"Regional manufacturing surveys leading up to this report had indicated a slowdown, so the fact that this hasn't occurred is encouraging," said Mark Luschini, chief investment strategist at Janney Montgomery Scott.
Strong manufacturing numbers out of China, the world's second-biggest economy, also provided a lift to the market and sent Chinese stocks higher overnight.
"China is seen as the growth engine for the world, so this data coming in positively adds support to the fact that their economy is continuing to grow," said Luschini.
A report on personal income and spending before the bell showed that personal income declined 0.1% while personal spending increased 0.2% in September.
Economists had expected the Commerce Department to report that spending by individuals rose 0.4% in September, according to a consensus estimate from Briefing.com. Personal income was expected to have risen 0.2% in the month.
Separately, government data showed that construction spending unexpectedly rose 0.5% in September, while economists had expected a 0.7% drop.
Companies: JPMorgan Chase (JPM, Fortune 500) shares slipped nearly 1% amid reports that the Securities and Exchange Commission is investigating the bank's $1.1 billion deal with hedge fund Magnetar.
Shares of Exco Resources Inc. surged 30% after the company's chairman offered to buy the company in a $4.4 billion deal.
Cablevision Systems Corp. announced over the weekend that it has reached an agreement with News Corp. to return Fox programming to Cablevision. That sent shares of Cablevision (CVC, Fortune 500) up 1.7%, and shares of News Corp. (NWSA) edged slightly higher.
AIG (AIG, Fortune 500) said early Monday that it has raised nearly $37 billion by selling off one insurance subsidiary, and the initial public offering of a second, AIA Group Ltd. AIG's stock edged down slightly.
Before the bell, Loews (L, Fortune 500) reported that its net income dropped in the third quarter to $36 million, compared to $468 million in 2009. That included a one-time charge of $328 million stemming from CNA Financial Corporation, a subsidiary. Excluding that charge, Loews reported earnings of 13 cents per share, topping analyst expectations. Shares were little changed.
Shares of Wilmington Trust (WL) sank 41% on news of a bigger-than-expected third quarter loss. The bank also agreed to be bought by M&T (MTB).
Companies scheduled to post results this week include BP (BP), MasterCard (MA, Fortune 500), Pfizer (PFE, Fortune 500), CVS Caremark (CVS, Fortune 500) and WellPoint (WLP, Fortune 500).
World markets: European shares finished slightly higher. The CAC 40 in France closed 0.2% higher, the DAX in Germany rose less than a percent and Britain's FTSE 100 was up 0.3%.
Asian markets ended mixed. Japan's benchmark Nikkei index dropped 0.5%, while the Hang Seng in Hong Kong rose 2.4%. The Shanghai Composite ticked up 2.5%.
Currencies and commodities: The dollar rose against the euro, the British pound and the Japanese yen.
Oil futures for December delivery rallied, gaining $1.52, or nearly 2%, to settle at $82.95 a barrel.
Gold for December delivery tumbled $7 to settle at $1350.60 an ounce.
Bonds: Prices on U.S. Treasuries fell Monday, pushing the yield on the benchmark 10-year note up to 2.63% from 2.61% late Friday.