Dow has best October since 2006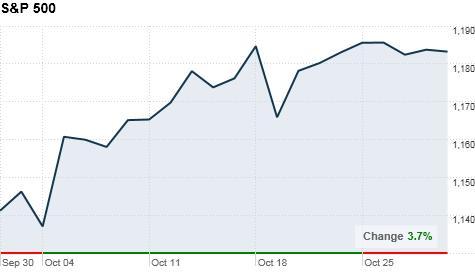 NEW YORK (CNNMoney.com) -- Stocks ended October with gains, but uncertainty sent investors to the sidelines Friday following a lackluster reading on economic growth and ahead of next week's Federal Reserve meeting.
For the month, the Dow logged its best October since 2006, rising 3%. The S&P gained 4%, its best October since 2003; the Nasdaq jumped 6%.
But the month ended on a quiet note Friday. TheDow Jones industrial average (INDU) inched up 5 points, the S&P 500 (SPX) ticked down less than a point, and the Nasdaq (COMP) rose less than a point.
A report on third-quarter GDP early Friday showed the economy grew at a sluggish pace in the third quarter, signaling that quantitative easing from the Fed is still on its way.
But speculation about how far the Fed will go to boost the economy, along with the highly-anticipated Nov. 2 elections, has kept stocks in a tight range this week.

"We are waiting in the wings here for two major events that could really shake the economy going forward," said David Sandell, a portfolio manager at Leeb Capital.
Markets ended flat Thursday after a strong start gave way to trepidation.
"There are earnings reports that might move the markets a little each way, but until next week we're not going to get much direction, so markets are going to be choppy," said Sandell.

Economy: A mixed bag of economic data Friday contributed to the skittishness.
Ahead of the opening bell, the government issued its first look at third-quarter gross domestic product -- the broadest measure of the nation's economic activity.
The government reported that GDP rose at an annual rate of 2% in the third quarter, slightly higher than the 1.7% rate in the prior three months. The result was slightly above the 1.9% rate forecast in a CNNMoney.com consensus of economists.
Also before the bell, the Bureau of Labor Statistics reported compensation costs for civilian workers increased 0.4% in the third quarter.
After the start of trading, a report on manufacturing activity came in better than expected. The Chicago PMI rose to 60.6 in October from 60.4 in September, beating the reading of 58 expected by economists.

Meanwhile, a revised reading on consumer sentiment fell short of expectations. The Michigan consumer sentiment index slipped to 67.7 in October from 67.9 in September, missing the rise to 68 economists had forecast.

Companies: Shares of Monster Worldwide (MWW) soared 26% Friday, making it the biggest winner in the S&P 500. The job recruitment site raised its fiscal outlook and posted third-quarter results that topped forecasts.
Merck (MRK, Fortune 500) and Sony (SNE) were among the big companies reporting results ahead of the opening bell.
Merck topped analyst forecasts by 3 cents a share, reporting a profit of 85 cents a share. Merck's third quarter net income was $342 million, spurred by progress in emerging markets. Despite the better-than-expected results, shares of Merck slipped 2%.
Sony (SNE) reported a third-quarter net income of $375 million, driven by higher sales and cost cutting. The electronics maker also raised its income forecast for the rest of the year, despite the expectation of a continued difficult business environment.
Meanwhile, shares of Microsoft (MSFT, Fortune 500) rose more than 1.5%, after the software giant said late Thursday that sales and profits in the most recent quarter rose more than analysts expected.
Also, Coinstar (CSTR)'s stock soared 24% after it reported earnings that blew past analyst forecasts and raised its full-year guidance. The company's Redbox DVD vending business has been a big boost, and Coinstar recently recently said it planned on expanding into streaming, putting the heat on Netflix (NFLX).
World markets: European shares finished little changed. The CAC 40 in France and Britain's FTSE 100 fell by less than a percent, while Germany's DAX rose 0.1%.
Asian markets ended their session lower. Japan's benchmark Nikkei fell 1.8%, while the Hang Seng in Hong Kong and Shanghai Composite dipped 0.5%.
Currencies and commodities: The dollar strengthened against the euro, but fell against the British pound and Japanese yen.
Oil futures for December delivery fell 75 cents to settle at $81.10 a barrel.
Gold for December delivery jumped $15.10 to close at $1,357.60 an ounce.
Bonds: Prices on U.S. Treasuries rose Friday, pushing the yield on the benchmark 10-year note down to 2.6%, from 2.7% late Thursday.