Millionaire tax on the ballot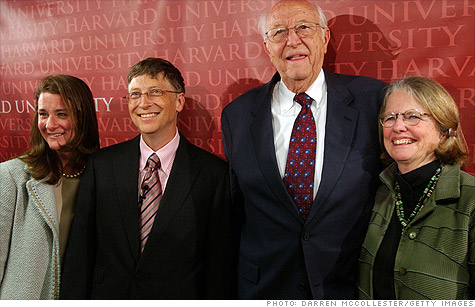 NEW YORK (CNNMoney.com) -- When voters in Washington state head to the polls, not only will they decide whether to check the box marked (R) or (D), but also if their millionaire neighbors should pay higher taxes.
An initiative on the state's ballot calls for establishing an income tax of 5% on single taxpayers earning $200,000 or more and a 9% rate on incomes above $500,000. (The threshold would be doubled for married Washingtonians.)
Washington is one of a handful of states with no income tax, and if the initiative passes, it would be the first state to enact a personal income tax since Connecticut in 1991, according to the Tax Foundation, a D.C. based group that studies tax policy and favors lower rates.
The stakes are high. The measure, called I-1098, would bring in $11.16 billion over the next five years, according to Washington's office of financial management, and would be spent on education and health care.
The prospect of higher tax rates has millionaires and billionaires lining up on both sides of the issue.
Microsoft co-founder Bill Gates supports the measure, which is co-authored by his father, Bill Gates Sr. The elder Gates has long advocated in favor of I-1098, and has proven his devotion by appearing in commercials that involve him being dropped into a water-filled dunk tank.
But not all is copacetic in the tech-heavy state. Current Microsoft CEO Steve Ballmer has donated $425,000 to opposition group "Defeat 1098," according to the Washington Public Disclosure Commission. And company co-founder Paul Allen has chipped in $100,000.
Microsoft (MSFT, Fortune 500), which has donated $75,000 corporate dollars to help defeat I-1098, said in a statement that while the company strongly supports public education, it is concerned that the tax will "make it harder to attract talent and create additional jobs in Washington State."
Eight other states have instituted so-called "Millionaire's taxes" in recent years, according to the Tax Foundation. So far, voters in only two states -- Oregon and California -- have approved tax increases that target the wealthy, while state legislatures have enacted the remaining six.
The difference in Washington is that its citizens, who don't pay income taxes, are voting on whether or not to now tax the income of just a few.
The debate over Washington's proposal breaks along familiar battle lines. Opponents of the measure argue that adding an income tax on wealthy individuals will drive businesses out of state to more favorable tax environments.
Meanwhile, supporters argue that without the capital investments in education and health care that would result from the tax, Washington's economy will suffer in the long-term.
The debate has even drawn political opportunists from outside state lines. Texas Gov. Rick Perry, a Republican who often touts his state's economic success, mailed letters last week to 90 businesses in Washington.
Sent to Amazon (AMZN, Fortune 500), Microsoft, and Starbucks (SBUX, Fortune 500), the letters invite companies to relocate to Texas if I-1098 were to pass.
"If Washington doesn't want your business, Texas does," the letters say. "Texas has no personal income tax and there's no interest in getting one."