Deficit debate: Game on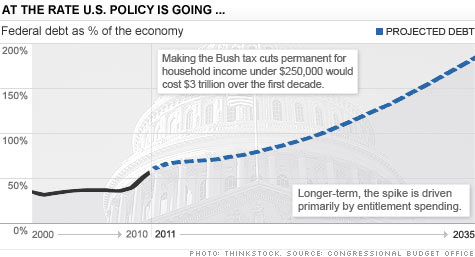 NEW YORK (CNNMoney.com) -- Many of the winners in the mid-term elections spent a lot of time pontificating about the perils of the nation's debt.
Now they'll have their chance to influence how the unsustainable trajectory projected for U.S. borrowing should be handled.
But a serious debate will mean putting aside absolutist campaign promises.
Instead, deficit hawks say, lawmakers now need to propose specific spending cuts and tax increases that they would be willing to support, especially when they object so vehemently to the suggestions of others.
"Many new members of Congress will have been elected on pledges to foreswear the very things that will be needed: spending cuts in popular entitlement programs and defense, tax increases and, most of all, compromise," Robert Bixby, executive director of The Concord Coalition, a deficit watchdog group, wrote in the blog (Tab)ulation.
Two key reports on tap
Lawmakers will have no shortage of ideas to choose from, in fact wholesale plans if they're interested, thanks to two important reports coming out in the next month.
On Nov. 17, the Bipartisan Policy Center's Debt Reduction Task Force will release its proposals to stabilize accumulated U.S. debt at 60% of gross domestic product by 2020,
That's roughly where debt as a percentage of the economy is today. But barring any changes to current policies, it is slated to top 87% by 2020, and approach 200% by 2035, according to projections from the Congressional Budget Office.
Members of the task force, chaired by former Clinton White House Budget Director Alice Rivlin and former Republican Sen. Pete Domenici, represent views from the left and right.
Their proposals will touch all parts of the federal balance sheet. They will aim to reduce the growth in health care costs, make Social Security solvent over 75 years, reform the tax code and freeze both defense and nondefense discretionary spending.
In an age of toxic partisanship where Democrats dare not speak of spending cuts and Republicans can't utter the words "tax increase" without choking, members of the task force managed to put aside their political preferences.
"This has been the most constructive bipartisan effort I've ever seen," said the group's director, Charles Konigsberg, who speaks from 27 years of experience working for congressional budget committees and the White House budget office.
Granted, no one on the task force holds office.
The story is very different for President Obama's bipartisan fiscal commission, which is expected to put out its recommendations on Dec. 1.
That commission includes 12 sitting lawmakers -- evenly split between Democrats and Republicans, as well as six presidential appointees from the right and the left, including Rivlin.
From the start, few observers held out hope that the commission could garner the 14 of 18 votes needed to make formal recommendations to the president and to the Congress.
Of course, there's no telling what change-of-heart members might have with the midterm elections behind them.
"No decisions have been made yet and all suggestions are being considered," said commission spokesman Fred Baldassaro.
The commission hasn't met since September. It postponed serious negotiations until after the contentious elections and won't reconvene publicly until Nov. 30.
In the end, it may be that the commission's report only represents the views of a simple majority of members or even just those of the commission's chairmen.
That doesn't mean the report will hold no weight. To the contrary, the White House has said repeatedly it would take the commission's recommendations into account when drafting the president's 2012 budget proposal.
Comments made this summer by commission co-chairman Erskine Bowles -- who served as President Clinton's chief of staff -- already suggested what the parameters of the commission's recommendations might ultimately be, especially if there isn't consensus among at least 14 of the members.
They include caps on total spending and revenue, cuts to defense spending, a reduction in the size of various tax breaks, tax reform and recommendations for making Social Security solvent for 75 years.
And Bowles said then that if he had his druthers, no proposed changes would take effect before 2012 so that the economic recovery would have a chance to take deeper root.
Indeed, freshman lawmakers will soon discover that legislating deficit reduction is not only hard in and of itself, but that it can't be done in a vacuum.
As the bipartisan Committee for a Responsible Federal Budget put it recently:
"It cannot be stressed enough that short-term stimulus and deficit reduction are not mutually exclusive; in fact, pairing them can make each separate component more effective."