Why does Buffett still like Washington Post?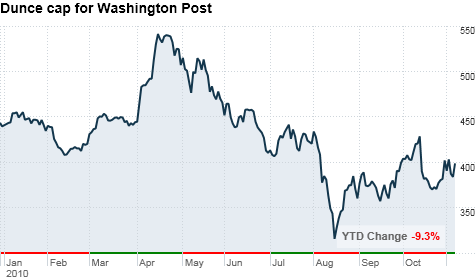 NEW YORK (CNNMoney.com) -- Investing guru Warren Buffett obviously doesn't need or probably want my investing advice.
But for what it's worth, here's a friendly suggestion for the Oracle of Omaha: You might want to reconsider whether it's still worth owning so many shares of Washington Post Co. (WPO, Fortune 500).
The company reported decent earnings Friday and shares were up 3%. But the stock is still down nearly 10% so far this year, making it one of the worst-performers in the Berkshire Hathaway (BRKB) portfolio. Berkshire is the largest institutional shareholder of Washington Post.
Of course, Buffett doesn't care about short-term gyrations in stocks. He's in it for the long haul.
And Washington Post has been an insanely profitable investment for him since he bought shares in the company in the early 1970s for about $11 million. Even after this year's haircut, that stake is now worth approximately $675 million.
Still, Washington Post faces a major regulatory problem going forward.
Washington Post's biggest business is actually its Kaplan education division. That makes up nearly two-thirds of the company's sales and three-quarters of its operating profit.
The Department of Education is taking a much tougher look at for-profit education companies because of concerns that students are graduating and not able to find what the department considers "gainful employment" -- i.e. well-paying enough jobs to allow the alumni to easily pay back their student loans.
Shares of other publicly traded education companies, such as Apollo (APOL), DeVry (DV) and ITT Educational Services (ESI), have all plunged this year on concerns that more stringent Education rules will lead to sharp drops in enrollment. There's also the risk that these schools will not be able to qualify for as much federal funding.
Apollo has already indicated it expects a sharp decline in enrollment in 2011. And in its earnings report Friday, Washington Post said that pending Education rule changes could have "a material adverse effect on Kaplan's operating results."
Considering that most Washington Post bulls have long maintained that the jewel of the company is really the education division and not its widely respected newspaper, it makes it harder to justify why the stock is a compelling investment.
The publishing business only accounts for about 14% of its total sales. It's also losing money. Washington Post even finally sold its struggling Newsweek magazine this year -- for $1.
And Buffett himself has admitted that despite owning the Washington Post, along with shares of USA Today publisher Gannett (GCI, Fortune 500), he is no longer that big a fan of the business. At Berkshire's 2009 annual shareholder meeting, he said publishers faced the possibility of "unending losses."
Washington Post also owns cable and broadcast television businesses.
The smaller broadcast division is having a strong year thanks to a pick-up in auto advertising and a huge boost in political ads tied to the midterm elections. But the cable side's profits and sales have been relatively flat this year. And neither of those divisions is large enough to compensate for more turmoil in Kaplan.
Add all that up and you have to wonder if Buffett may finally decide to cut Washington Post loose. Even though he's not the only value guru that owns the stock -- Southeastern Asset Management, the firm led by Mason Hawkins, is the second largest institutional owner -- bearish investors are betting against WaPo.
The so-called short interest in the stock -- i.e. the percentage of shares held by investors who have borrowed the stock, sold it and yet to buy it back -- makes up an astonishing 37% of the company's available shares outstanding.
The Education Department saga is such a huge wildcard that it's not going to go away anytime soon. As such, it's reasonable to think short sellers will continue to hound the company.
So if Buffett had my ear -- and I would come a lot cheaper than Berkshire's new investment manager Todd Combs -- I would tell him the time has come to cash in on Washington Post. It's been a great holding for a long time. But the future looks incredibly tough.
Sure, the stock may seem cheap at 14 times 2011 earnings estimates. But estimates are likely to come down due to the Kaplan issue. And Buffett has made his name by looking for values, not value traps.
Reader comment of the week. The Fed's QE2 has finally left the dock. But many people are worried that Ben Bernanke's bond-buying program will just create more problems down the road.
In response to my Wednesday column about gridlock, John McDonald did his best impersonation of Kansas City Fed president Thomas Hoenig.
"So Ben has set off another squadron of helicopters full of greenbacks. Where will they find a home? Who gets them? What will they be used to buy. Simple, they will continue to re-inflate bubbles: especially the stock market, and commodities. Oh well, here we go again. Anyone care to predict how big these bubbles get before they burst?" McDonald wrote.
- The opinions expressed in this commentary are solely those of Paul R. La Monica. Other than Time Warner, the parent of CNNMoney.com, and Abbott Laboratories, La Monica does not own positions in any individual stocks.