Gold tops $1,400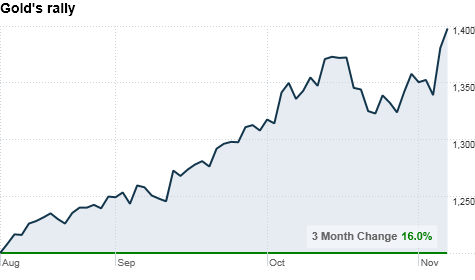 NEW YORK (CNNMoney.com) -- Gold prices hit a new record, surging above $1,400 Monday, as commodity prices continued to rally on the back of the Federal Reserve's new $600 billion stimulus plan.
Gold prices settled at $1,403.20 an ounce after earlier hitting an intraday high of $1,408.70. The precious metal has been on a tear as investors remain worried about inflationary pressures.
The Fed said Nov. 3 that it will buy $600 billion of longer-term Treasuries by mid-2011. That caused the U.S. dollar to slide and gave a giant boost to oil, gold, coffee, sugar and silver.
Metals "have become currencies for all intents and purposes," said Dennis Gartman, a commodities expert who publishes the Gartman Letter.
"As investors and as governments lose respect for the world's currencies that money is making its way quietly, steadily and inexorably towards the precious metals," he wrote.
Commodities remain in the spotlight because the Fed's asset purchases will put pressure on the U.S. dollar. Since commodities are priced in dollars around the world, a lower greenback makes it cheaper for foreign investors to buy them.
Meanwhile, the dollar moved higher versus the British pound and the euro on Monday, though the greenback was down slightly versus the Japanese yen.
"People are losing faith in the ability of the U.S. government to provide a sound currency," said Joe Foster, portfolio manager for the Van Eck Global international investors gold fund. "So they're turning to gold and silver to preserve their wealth."
Recently, Goldman Sachs predicted gold could rally as high as $1,600 an ounce. Meanwhile, silver prices settled at a new 30-year high of $27.43 an ounce Monday.
Some economists say commodities will head even higher in the next few months.
Cotton futures have also been hitting all-time highs, rising more than 4% Monday on concerns that bad weather will impact cotton crops in China, a major producer.
And oil prices are trading at levels not seen in two years, rising more than 5% in the past month alone. Sugar, corn and wheat have also all hit new highs over the past two months.
Those price hikes could start hitting consumers' wallets soon. High cotton prices will translate into higher clothing prices, while an increase in corn and wheat prices could result in higher prices for chicken, meat, pizza, pasta and bread.
One caveat on gold. The precious metal remains miles away from its true peak, when adjusted for inflation. Gold hit its real record on Jan. 21, 1980, when it rose to $825.50 an ounce. Adjusted for inflation from 1980 dollars to 2010, that translates to an all-time record of $2,184.08 an ounce.
CNNMoney staff writer Juilanne Pepitone contributed to this article.