Oil near $90. Thanks a lot, Fed.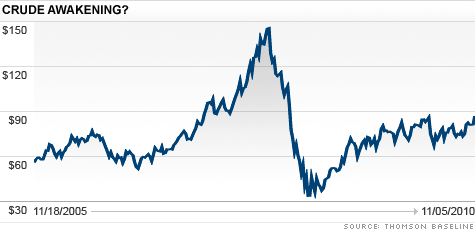 NEW YORK (CNNMoney.com) -- Don't look now. But oil prices are getting close to $90 again.
Crude is currently trading around $87 a barrel. Prices have not topped $90 in more than two years. But now that the Federal Reserve has made its latest round of quantitative easing official, some fear that crude at $90 is likely in the not-so-distant future.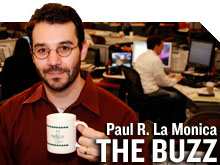 The dollar has weakened a lot leading up to the Fed announcing its $600 billion plan to buy more Treasury bonds. And many experts think the greenback may continue to fall. That would put more pressure on oil prices, which are priced in dollars.
"The real question is how much weaker the dollar can get, particularly relative to Europe. That could get oil beyond $90 sometime soon," said Kurt Karl, chief U.S. economist with Swiss Re in New York.
And that may be bad news for consumers, who are still reluctant to spend at a time when the economy remains fragile.
Rising energy prices are often viewed as a so-called tax on the consumer. People may have to pay more to fuel up their cars and heat their homes.
Higher oil prices could also jeopardize the recovery that Detroit's Big Three automakers have enjoyed this year.
Shares of Ford (F, Fortune 500) are near a six-year high. GM has returned to profitability and is scheduled to go public again next week. Even Chrysler, which reported a loss Monday, is pointing to better times ahead. So the last thing any of these companies want is sticker shock at the gas pump.
"The big issue is about consumer confidence. What you pay for gas is a very prominent cost. If oil goes over $100, you could see more concerns about consumer spending," Karl said.
Unfortunately, gas prices are starting to edge higher. The current nationwide average is $2.85 a gallon, according to the latest AAA fuel report.
But Karl said he does not think gas prices will rise that much further. He said it will be tough for oil prices to top $100 anytime soon since it will take more than just a weak dollar to propel crude past that level.
Even if oil does blow past $90 and starts heading toward $100, that might not be enough to make consumers nervous simply because they've already lived through $100 oil before.
Oil has a long way to go before it reaches the all-time highs of more than $140 a barrel back in July 2008. With that in mind, oil at $90 -- or even $100 -- may not signal a major pain for consumers.
"Going forward, oil at $100 doesn't mean as much psychologically given that the record high is over $140," said Matt Lloyd, chief investment strategist at AAM, a money management firm in Monument, Colo.
However, if rising oil prices start leading to higher gas prices, consumers may start to change their behavior to conserve cash, Lloyd conceded. But that could actually turn out to be a positive since it could help put a limit on how much further oil prices rise.
"If oil keeps going higher, people will curb their driving. The prices will become a natural inhibitor to demand," Lloyd said.
One economist is worried that energy costs are already too high. Milton Ezrati, senior economist with Lord Abbett, an investment firm in Jersey City, N.J., thinks that rising oil prices are already having an impact and that consumers are being more cautious about what they spend.
He worries that nobody is paying attention to oil and that investors banking on better times ahead for retailers may be in for a shock.
"I don't think consumers are cutting back on total spending but the increase in energy prices is diverting money that might be spent elsewhere," said Ezrati. "People may be spending more at the pump than at restaurants and on shopping over the holidays."
The pain could worse. There are some who still say that oil is not even close to topping out.
Paul Simon, chief investment officer at Tactical Allocation Group, an investment firm in Birmingham, Mich., said that the run-up in oil is being influenced by the same factors that are leading to a big spike in other commodities, most notably gold and silver.
Simon said that the Fed's QE2 program should continue to put pressure on the dollar and that investors will continue to chase hot performers in the commodity markets as a result. He added that oil, along with gold, benefits from being an asset of tangible value, unlike a paper currency.
"There is a flood of money hitting the market and it is going to have to go somewhere," Simon said. "The Fed's QE2 just accelerates that trend. More people will want to put money in hard assets."
Simon agreed with Karl and Lloyd that oil prices are not high enough yet to put a major dent in consumer spending. However, he worries that oil prices could rise back toward their record levels sometime in the next few years and that crude prices could ultimately double from current levels before peaking.
Part of that is because of the Fed but it's also an acknowledgment that emerging markets like China and India should create more demand for oil. Either way, new record prices for oil could severely hurt consumers in the U.S.
- The opinions expressed in this commentary are solely those of Paul R. La Monica. Other than Time Warner, the parent of CNNMoney.com, and Abbott Laboratories, La Monica does not own positions in any individual stocks.