The great global belt-tightening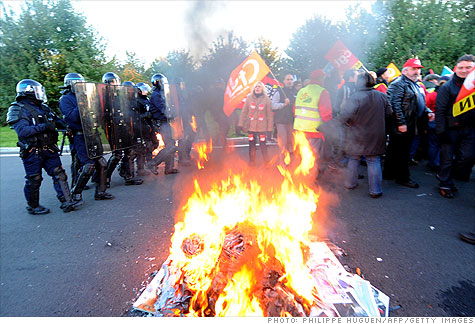 NEW YORK (CNNMoney.com) -- Life is getting tougher for the average worker, not just in America, but in other advanced nations around the globe.
From U.S. households shedding $1 trillion in debt, to France raising its retirement age, to Great Britain slashing a half million public workers, industrialized countries are cutting back on spending.

And it's only going to get worse.
While such belt-tightening may be long overdue, it will come at a cost to the standard of living of the workers in many of the established economies whose leaders are set to meet at the G-20 economic summit this week in South Korea.
That's because less spending can only lead to less economic activity and slower growth.
In the past, workers in the developed world could have confidence that their own economic conditions would always improve, that they could expect a secure retirement and that their children would have a better life than they did. But that confident view of the future is now in question.
"There are more hurdles we have to clear to sustain an ongoing rise in the standard of living," said Sean Snaith, economics professor at the University of Central Florida.
Will the world's superpowers ever return to their former glory? Before developed nations can get back on a path to strong growth, they face a variety of obstacles.

Debt: Decades of debt-fueled overspending, both by households and governments, are finally coming home to roost.
"There is a debt hangover we have to work off," said Lakshman Achuthan, managing director of Economic Cycle Research Institute.
In the United States, debt is on track to top 92% of gross domestic product, according to International Monetary Fund estimates. And Japan's debt is expected to reach a staggering 225% of the country's total economy by the end of the year.
Curbing debt will be a long-term process that will take years of painful cutbacks in spending, and be a drag on economic growth going forward.

"It's a global resetting," said Sean Egan, a founding principal of Egan-Jones Rating Co. "You see various countries responding to the debt situation, raising retirement age, cutting civil servants. The current debt levels are unsustainable."
Aging populations: Much of the unsustainable debt comes from retirement benefits promised to workers. But those entitlements are now at risk.
The French government has passed a law, now awaiting final approval, to raise the retirement age from 60 to 62, prompting strikes, protest rallies and rioting. The government in Great Britain has proposed a six-year increase in the retirement age.
And public employee pension benefits are being cut in Greece as part of the austerity program announced earlier this year.
Such cuts are likely to spread across the developed world as governments face promises they can no longer afford, especially for national retirement systems like Social Security, said Egan.
On Wednesday, President Obama's fiscal commission recommended a number of moves to keep Social Security solvent, including raising the retirement age to 69 by 2075 and less generous annual cost-of-living benefit increases.
"I think what happens over the next couple of years will be the Great Reset. Governments will have to change the contract they've taken on with their citizens," he said.
And the retirement burdens will only get worse as the population ages, life spans increase and active workers have to support an ever-growing pool of retirees.
But making those changes won't be easy. Proposals to cut benefits and entitlement programs or to raise taxes to close budget gaps can cause populist backlashes, as seen across much of Europe this year.
And just as there has been an outcry about government debt in the United States in the recent elections, there was immediate criticism Wednesday of the proposals to change Social Security benefits and eligibility.
Competition from abroad: Rising wealth of powerful emerging economies such as China and India has created more competition for workers in developed countries, dragging down wages while demanding ever-greater increases in productivity.

"We have a global structural shift that is tied to almost 2 billion new people coming into the work force," said Achuthan. "The greater supply of workers puts downward pressure on the price of labor."
And the competition goes beyond labor. Explosive growth in the developing world is stealing business investment away from the industrialized nations, stifling innovation and hiring.
President Obama acknowledged this reality before leaving on a tour of emerging countries on his way to the G-20 meeting.
"The playing field now is a lot bigger and a lot more competitive than it used to be," he told 60 Minutes. "And people rightly worry that if we don't make some fundamental fixes to the economy, that America may not be the preeminent economic power that it's been in the past."
The president said he's confident that America will make the changes necessary to reverse the trend and remain the world's preeminent economy.
But stubbornly high debt loads will continue to drag on growth across the developed world -- a prescription for tough times ahead.