I was wrong about Ford. It's time to buy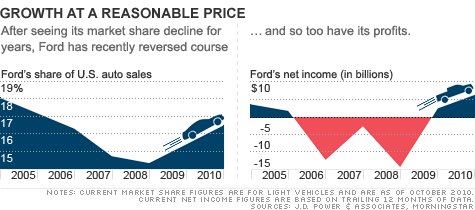 (MONEY Magazine) -- When I entered the investment business 15 years ago, all the human capital spent analyzing the Big Three automakers seemed like a colossal waste of brainpower.
What was the point of trying to forecast how many cars GM would sell or what kind of profit margins Chrysler would enjoy when the entire domestic auto industry had such horrible long-term economics?
Massive pension liabilities, high labor costs, low-quality products, cars that seemed to be designed by a committee of blind bureaucrats -- you know the story. So my call on auto stocks was always simple: Don't go there.
That turned out to be sound advice, since shares of the Big Three have massively underperformed the market over the past two decades.
New facts about Ford
But if there's anything I've learned over the years, it's that just as the best businesses can get worse (ask any investor in newspaper stocks), seemingly terrible businesses can sometimes get better. Or as John Maynard Keynes famously said, "When the facts change, I change my mind. What do you do, sir?"
Well, the facts concerning Ford (Ford Motor (F, Fortune 500)) have changed, so I've changed my mind. I've even purchased some shares of Ford myself.
What's changed? First, on the cost front, Ford is saving about $1 billion in cash outlays a year after transferring responsibility for retiree health care costs to an outside trust.
The company has also sold or shut down noncore brands like Volvo, Jaguar, and Mercury. And Ford is reaping the benefits of a lengthy restructuring program aimed at simplifying manufacturing.
From fewer choices for options to more shared parts among various models, Ford, the country's second-largest automaker, is simply a more efficient manufacturer than it was five years ago.
But low costs don't matter if you're not selling products people want, and that is where Ford has made the biggest strides.
Not only is the firm's market share on the rise -- thanks in part to popular fuel-efficient vehicles like the Focus -- but quality has vastly improved from the days when F-O-R-D stood for "fix or repair daily." In fact, the 2010 J.D. Power study of initial quality ranked Ford ahead of Honda and Toyota.
Priced to move
After three years of losses, Ford returned to profitability last year, earning $0.86 a share. Morningstar analysts think that could rise to $2.50 and $3 a share within the next four to five years.
And with auto sales below normal after years of depressed demand, a stronger-than-expected rebound could mean the stock may be even more valuable than the $20 a share our analysts say it's worth (the stock now trades at around $14).
To be fair, negative attitudes about the quality of U.S. autos won't change overnight. But at a price/earnings ratio of less than 7, based on projected profits -- or about half the valuation on rival Toyota -- Ford shares seem like a better bet than they have been in a long time.

Send feedback to Money Magazine