Stocks extend rally on retail cheer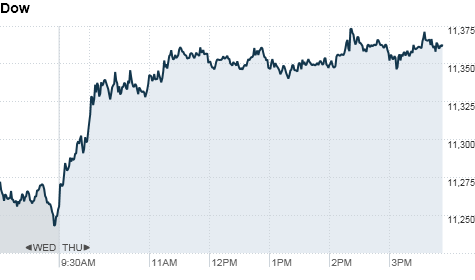 NEW YORK (CNNMoney.com) -- U.S. stocks rallied 1% Thursday, building on the previous session's big gains, as investors cheered strong retail sales and welcomed the European Central Bank's plan to extend liquidity measures.
The Dow Jones industrial average (INDU) jumped 107 points, or 1%; the S&P 500 (SPX) climbed 15 points, or 1.3%; and the Nasdaq (COMP) rose 30 points, or 1.2%.
Gains were broad-based, with all but three of the Dow 30 rising. Home Depot (HD, Fortune 500), Alcoa (AA, Fortune 500) and Bank of America (BAC, Fortune 500) led the advances.
Retailers helped prop up stocks as strong chain-store sales rolled in, signaling consumers are loosening their purse strings. Shares of Abercrombie (ANF), Dillards (DDS, Fortune 500) and JCPenney (JCP, Fortune 500) all jumped.
"This continues the trend we've been seeing in the past couple months of retail sales being better than expected," said Ryan Detrick, senior technical strategist Schaeffer's Investment Research. "It's a very positive signal that consumers are coming back and confidence is coming back with them."
Signs of economic strength sent stocks soaring Wednesday, with all three major indexes surging more than 2%. The blue-chip Dow index added 249 points, its biggest one-day gain since early September.
That momentum continued Thursday after the ECB announced it will continue its stimulus measures and will keep buying government bonds.
"The [announcement] was largely expected, but there's a bit of relief in the market that they aren't withdrawing liquidity," said Ryan Atkinson, vice president at Balestra Capital. "There's a feeling that the monetary authorities can support the [debt] issue, and for the time being that's all investors need."
Recently, investors have worried that Spain will be the next domino to fall in Europe. But Spain does not intend to tap the European Union fund, Spanish Prime Minister Jose Luis Rodriguez Zapatero said in a CNBC interview Thursday morning.
Economy: An encouraging report on the housing market helped stocks extend an early rally.
After the start of trading, the National Association of Realtors said its pending home sales index surged 10.4% in October after slipping 1.8% in September. The index, which measures sales contracts for existing homes, was expected to be unchanged.
"Economic data is looking better all around," said Atkinson. "Data has continued to beat expectations over the past few weeks, so investors are staying hopeful that the economy will continue to grow."
The upbeat housing report overshadowed a slightly worse than expected report on jobless claims. The government reported that the number of Americans filing for first-time unemployment rose to 436,000 last week, while economists polled by Briefing.com had expected 422,000 new claims.
A big week for jobs data culminates with the government's key monthly jobs report due before the opening bell on Friday: Employers are expected to have added 130,000 jobs in November after adding 151,000 jobs in October. The unemployment rate is expected to remain unchanged at 9.6%.
Investors were also looking at reports from top retailers on their November same-store sales, which will give a taste of the holiday shopping season ahead. Discount food shopping giant Costco (COST, Fortune 500) announced that its sales were up 9% year over year. Clothing brand Abercrombie & Fitch (ANF) reported sales were up 22%, and Macy's (M, Fortune 500) showed an increase of 6.1%. Same-store sales measure sales at stores open at least a year.
World markets: European stocks climbed. Britain's FTSE 100 finished 2.2% higher, the DAX in Germany climbed 1.3% and France's CAC 40 gained 2.1%.
Asian markets also had a solid day. The Shanghai Composite Index added 0.7%, the Hang Seng in Hong Kong added 0.9% and Japan's Nikkei jumped 1.8%.
Companies: Food and beverage giant PepsiCo (PEP, Fortune 500) said it would buy Russian food and beverage company Wimm-Bill-Dann Foods (WBD) for nearly $5.8 billion. The purchase will establish PepsiCo as the largest food and beverage business in Russia. Shares of PepsiCo dipped slightly.
Johnson & Johnson (JNJ, Fortune 500) announced that it is recalling 12 million bottles of over-the-counter Mylanta and almost 85,000 bottles of its AlternaGel liquid antacid. Shares of Johnson & Johnson edged up modestly.
Currencies and commodities: The dollar rose against the euro and the British pound, but slipped versus the Japanese yen.
Oil for January delivery rose $1.25 to settle at $88 a barrel.
Gold futures for February delivery gained $1 to settle at $1,389.30 an ounce.
Bonds: The yield on the benchmark 10-year U.S. Treasury rose to 3% from 2.96% on Wednesday. The 10-year yield hasn't been at 3% since late July.