Buy Dickies pants, help Detroit's unemployed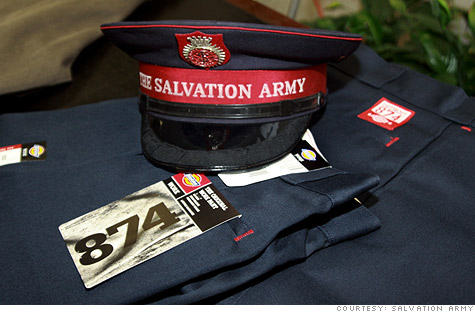 NEW YORK (CNNMoney.com) -- It's rare that buying yourself clothes actually benefits others, but one apparel maker aims to change that by helping thousands of unemployed workers in one of the hardest hit areas of the country.
Dickies recently launched a line of limited-edition navy twill work pants, called the "Detroit 874." For every pair of $50 work pants sold, Dickies is donating a pair to the Salvation Army of Metro Detroit, which will give the pants to unemployed workers in the area.
Kevin Brim, 45, was one of the recipients. Brim lost his job at Happy's Pizza in Detroit and then his home earlier this year. Homeless and unemployed, he moved in to a Salvation Army shelter and enrolled in Detroit Greenworks, an employment training program specializing in renewable energy.
Prior to the Salvation Army's help, "I've never been on any kind of assistance in my life," Brim said. But "becoming homeless might have been a blessing in disguise," he added.
One of his instructors in the training program hired him for temporary work on a renovation and deconstruction job at the Weatherization and Retrofit Maintenance training center on Michigan Avenue in Detroit. And he has been wearing his new work pants on the job. "I actually have a pair on now," he told CNNMoney.
Having exhausted his stay at the Salvation Army shelter, Brim is currently living in a motel but looking for more permanent housing. Next up, Brim has an interview with an energy consulting firm.
"I'm staying in a motel but hey, I got my foot back out here and I think something positive is going to come."
Dickies chose to help Detroit's unemployed to honor its history. The Fort Worth-based company has specialized in utilitarian work apparel since in 1920s and has outfitted the U.S. military among other organizations.
"Most of our guys are blue-collar hourly workers, those are the ones who were hit the hardest," explained Tad Uchtman, Dickies' senior vice president of marketing, merchandising and licensing. "We wanted to do something for the workers of America. We picked Detroit because it's a city that's been in need of help for a long time."
The unemployment rate in Michigan currently stands at 12.8%. The state was particularly hard hit by layoffs in the auto industry during the recession.
The program "comes in a time of economic crisis for our community, when the people we serve are struggling to find job opportunities and also lack the basic necessities to secure a job," Major Monty Wandling with the Salvation Army Eastern Michigan Division said in a statement.
The Detroit 874 work pants are available on the Dickies website and in the Fort Worth, Texas, and Birch Run, Mich., stores. Five thousand pairs of the special-edition pants were made available for sale beginning in September and so far about one-third have sold, according to the company.
In addition, Dickies made an initial donation of 5,000 pairs and $25,000 to The Salvation Army of Metro Detroit to kick-off the initiative.