Madoff trustee sues accountants for $900 million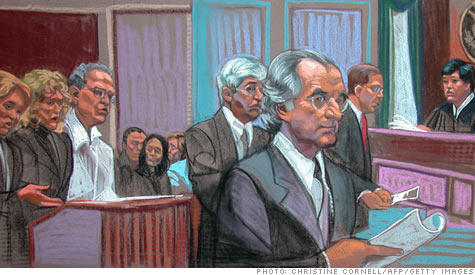 NEW YORK (CNNMoney.com) -- The court-appointed trustee in the recovery of assets stolen by Bernard Madoff accused two accountants, along with members of their families, of covering up the Ponzi-schemers actions.
Trustee Irving Picard filed a complaint late Friday against Frank Avellino, Michael Bienes, their wives, son Thomas Avellino as well as other family members, for allegedly hiding Madoff's fraudulent activity.
Picard is seeking to recover $900 million from the group.
"Frank Avellino and Michael Bienes are among the earliest enablers of Bernard Madoff's," said Picard in a statement. "They operated [Madoff's] first feeder fund, a partnership known as Avellino & Bienes, which not only fueled the initial growth of the Ponzi scheme, but also helped sustain it for years."
According to the complaint, Avellino and Bienes knew about the fraud for years but still touted Madoff as a "legitimate investment professional" to investors. The complaint states that the two CPA's actions reached back as far as 1992.
The trustee's attorney, Baker & Hostetler partner David Sheehan, said Avelline and Bienes "observed blatant and obvious red flags which would have put a reasonable person, let alone licensed CPAs, on clear notice that [Madoff] was operating fraudulently."
The lawsuit comes on the heels of another suit, filed earlier in the day. Picard is also suing an Austrian banker, seeking to recover $19.6 billion.
The trustee has filed a wave of lawsuits ahead of the second anniversary of Madoff's arrest on Dec. 11, 2008. Madoff pleaded guilty in March, 2009 in federal court for orchestrating the largest Ponzi scheme in history. He was sentenced to 150 years and is incarcerated at a medium security federal prison in North Carolina.
-- Staff writer Aaron Smith contributed.