Cars: Top Safety Picks double for 2010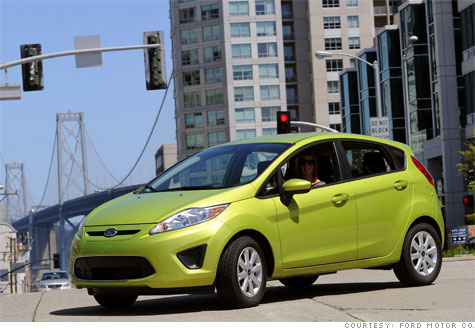 NEW YORK (CNNMoney.com) -- The Insurance Institute for Highway Safety named 66 vehicles as "Top Safety Pick Winners" this year, more than double the number that earned the award last year.
"That gives consumers shopping for a safer new car or SUV -- from economy to luxury models -- plenty of choices to consider in most dealer showrooms," said Insurance Institute president Adrian Lund in a statement. "In fact, every major automaker has at least one winning model this year."
Last year, the Insurance Institute added a roof crush test to the criteria for its annual safety award, and the number of winners got flattened, falling to just 27 from 72 the year before.
To earn a Top Safety Pick Award from the Insurance Institute, a private group funded by auto insurers, a vehicle must earn top scores in front and side crash tests, whiplash protection tests and roof crush tests, plus it must be available with electronic stability control, a computerized system that helps a driver maintain control during abrupt maneuvers.
To meet the Institute's roof crush safety standard, a vehicle's roof must hold up to four times the weight of the vehicle itself. That's more than twice what's required under current federal auto safety rules.
The closely related Korean automakers Hyundai and Kia had a combined total of nine vehicles on the list. Volkswagen, including its luxury division Audi, also had nine on the list. Subaru, which earned five awards, was the only automaker to win an award in every market segment in which it competed. (See all the winners)
While most vehicle segments had multiple winners -- there are 15 winning mid-sized SUVs, for instance, and 13 mid-sized cars -- three categories had only one winner each.
The Volkswagen Touareg was the only large SUV to earn the award and the Toyota Sienna was the only minivan while the Ford Fiesta the only "minicar."
Ford improved the roof strength of several vehicles for the 2011 model year. The Ford Flex and Fusion and the Lincoln MKT and MKZ now meet the new award criteria, the Institute said.
The Institute first gave out Top Safety Pick awards in 2006. At that time, all that was required were top ratings in the Institute's front and side impact tests. (Video: Hot holiday gifts for drivers)
Protection in both front and side impacts has increased greatly over the years, the Institute said. Nearly all 2011 model years cars and SUVs and more than half of 2011 pickups have standard head- and torso-protecting side airbags, the Institute said. Electronic stability control is now standard equipment on all 2011 model year SUVs, nearly all cars and almost three quarters of pick-up trucks.