Gas prices top $3 a gallon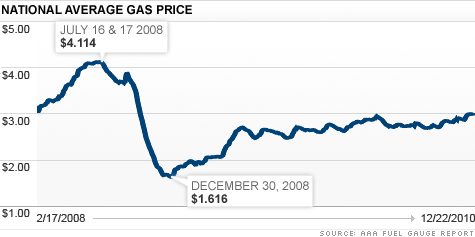 NEW YORK (CNNMoney.com) -- Gas prices crossed the milestone $3 mark Thursday for the first time since Oct. 17, 2008, as the national average compiled by motorist group AAA reached $3.013 a gallon.
Prices have risen more than 4% from $2.872 a month ago and are nearly 16% higher than the $2.585 average a year ago, according to the AAA figures.
The cost of gasoline has been climbing steadily since bottoming out at $1.616 in December 2008. However, the average price is down $1.101 -- or 26.7% -- from the record high of $4.114 reported on July 17, 2008.
"On a national average, we've never had Christmas Day with gasoline at three dollars or higher," said Tom Kloza, chief oil analyst with Oil Price Information Service, an energy trade publication based in Wall, N.J.
The rise in gas prices mirrors a rise in crude oil, which passed the $90 a barrel mark on Wednesday. Oil prices haven't settled above $90 a barrel since October of 2008.
The spike in crude has been helped along by a weak dollar, and according to some critics, the Fed's quantitative easing program.
But higher gas prices aren't going to keep motorists off the road this holiday season, according to Troy Green, a national spokesman for AAA.
He said AAA is sticking with its projection that 85.7 million people will travel by car to their holiday destinations, a 3.2% increase over last year.
Prices in Hawaii are the highest in the nation, with a gallon of gas costing $3.636. But this state is an outlier.
Californians pay the most in the lower 48, shelling out $3.275. New York follows, with an average gallon costing $3.262.
Twenty-six states and the District of Columbia are already paying more than $3 a gallon.
But some states pay far less. Residents of Colorado enjoy the lowest price at $2.755 per gallon.
On its Web site, AAA says the information is gathered by Oil Price Information Service and based on up to 100,000 stations nationwide.
According to a separate report issued by the Oil Price Information Service, drivers are estimated to spend $305 on gasoline in December.