Google: Your new phone carrier?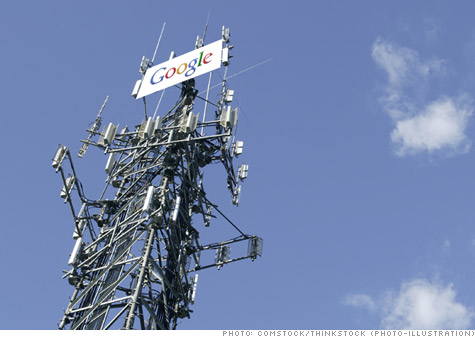 NEW YORK (CNNMoney.com) -- From robot cars to wind farms, Google's expansive ambitions have taken it into some surprising corners of the tech field. Here's another it could tackle: Becoming your telephone company.
Google has assembled all the pieces it needs to be a mobile provider like Verizon, AT&T (T, Fortune 500) or Sprint (S, Fortune 500).
The search company dabbles in selling phones, it licenses the ultra-popular Android smartphone operating system, and it is trying its hand at becoming an Internet service provider.
But its biggest weapon is Google Voice, the hit low-cost calling service that launched in May 2009. Just five months later, the service had 1.4 million users -- almost half of whom were using it every single day.
Google currently relies on the established carriers to sell and support its devices. But if Google has the ability to deal directly with its customers, why not cut out the middleman?
"Google's various efforts are clearly focused on being able to reach as many people on the planet as possible, but that is not something they can fully accomplish just by licensing out Android," says Ari Zoldan, CEO of Quantum Networks, which supplies equipment for Sprint's WiMax network. "If Google could find an easy way to transition into the cell space and provide mobile coverage, there would be some very serious advantages to that."
Never afraid to push the envelope, Google (GOOG, Fortune 500) been moving in that direction for years.
Buying the infrastructure: In 2008, Google put in a bid to buy wireless spectrum to provide mobile Internet access -- spectrum that ultimately went to Verizon (VZ, Fortune 500) for its new 4G network. Rumors that Google is buying up "dark fiber," broadband cables that have been laid but are not in use, have been widely circulated, though never confirmed.
Connecting customers: In February, the company announced that it will become an Internet provider of "ultra high-speed broadband" for up to 500,000 customers for a U.S. city. That project is still under development, but Google is about to start testing its service out at Stanford University.
Google already allows people to bypass their mobile carrier's service. Google Voice lets customers send free text messages, and the new version of Android ("Gingerbread") supports VoIP Internet calling, allowing users to make calls over over Wi-Fi networks.
Operating system: Google designs and licenses the fastest-selling smartphone operating system on the planet: Every day, about 300,000 new Android devices are activated. Android is free for device manufacturers to license, so it has caught on like wildfire. Google makes money by driving search traffic on Android phones.
Selling phones: Earlier this year, the search giant decided to experiment with selling the Nexus One Android phone directly to consumers online. Though it was hardly successful, Google laid the foundation for a future in retail.
"Google made some noise about trying to open up the carrier space, but it learned the hard way with Nexus One that this is much easier said than done," says Al Hilwa, analyst at IDC. "Though I have no doubt its ambition remains intact."
The next steps: So what does it all add up to? Would Google really be willing to give up its strong relationships with the carriers, most notably Verizon -- the largest network -- to go head-to-head with them in the wireless space?
We asked. Google declined to comment.
It's not likely in the immediate future. Google's Android is the hottest item in the mobile market, and the company relies on carriers to adopt its software and drive customers to its search site.
But it's a real possibility down the road. The Federal Communications Commission recently failed to enact strong Net neutrality rules for the wireless community. That leaves open the option for carriers to restrict their subscribers' access to some of Google's offerings.
Google warned of that risk in a recent SEC filing: "Some of these providers have stated that they may take measures that could degrade, disrupt, or increase the cost of user access to certain of our products by restricting or prohibiting the use of their infrastructure."
There have already been a few skirmishes. Verizon has made Microsoft's Bing the default search engine in some of its Android phones, depriving Google of that coveted spot, and it took more than a year of fighting to make Google Voice available for iPhone users.
Some experts believe that simply acquiring the pieces to the puzzle helps Google in its negotiations with the carriers.
"It's all part of their mentality to push the envelope and keep service providers on their toes," says Michael Grossi, director of consultancy Altman Vilandrie. "It's a way of keeping checks and balances."
As long as Google can get 300,000 new phones a day into customers' hands via the existing carriers, and as long as those devices allow consumers to download anything they want, there's no reason for them to compete, says Forrester Research analyst Jeffrey Hammond.
But as Hank Paulson famously said, if you have a bazooka in your pocket and people know it, you probably won't have to use it.
"While I think Google could become a mobile provider, I'd view it as a nuclear option," Hammond says.
Certainly, there would be some hurdles for Google to clear. Google would likely face extensive regulatory scrutiny if it were to become a wireless provider. It has very little customer service or retail experience. And becoming a data provider is an expensive new business that could weigh on its margins.
Still, Google has the funds and the resources to get it done. All that's left is the will to do it.
"It's a classic Google experiment," Grossi says. "Google loves to push the boundaries to see what's possible."