Pop the cork! Dow ends year up 11%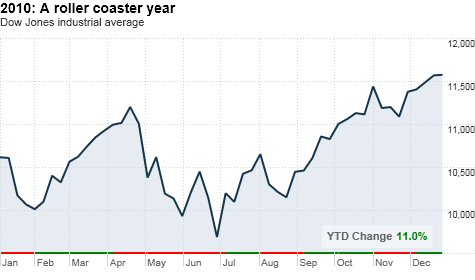 NEW YORK (CNNMoney) -- Traders are ready to ring in 2011 after celebrating the end of a year featuring double-digit gains.
The Dow Jones industrial average (INDU) ended Friday at 11,578, up 11% from the close of 2009. The S&P 500 (SPX) finished at 1,258, up 13% for the year, and the Nasdaq (COMP) rose 17% to end at 2,653.
Each of the three indexes moved only slightly in trading on Friday, making for a lackluster end to a tumultuous year. Wall Street was relatively quiet during the entire holiday week, as many investors had already closed their books out in prevous trading sessions.
That said, investors are in good spirits heading into 2011.
"We had a very strong finish. I'm very impressed with the action," said Mark Julias, senior market strategist with futures broker Lind-Waldock. "Overall, the S&P and Dow performed exceptionally well."
Stocks had a strong start to 2010, but concerns about Europe's sovereign debt crisis weighed on the market. A slow economic recovery at home -- particularly in the U.S. job and housing markets -- also pressured stocks.
The May 6 "Flash Crash," with the Dow sinking nearly 1,000 points in a matter of minutes, spooked investors and kept their stomachs churning for several months.
But in late August, Federal Reserve chairman Ben Bernanke assured investors that the central bank would do whatever it took to keep the economy from slipping back into a recession.
That promise, followed by the Fed's decision to pump $600 billion into the economy, restored some confidence -- and since then stocks have been on the rise.
While investors think more volatility could be on the way in 2011, they're also optimistic the new year will bring economic improvement, leading equities on a continued upward path.
"I think the sentiment is getting better, and I'm getting more positive going into 2011," Julias said. "I'm not saying we're out of the woods yet, but I am getting a bit more bullish."
Companies: On Friday, shares of Borders Group (BGP) fell 22% after the cash-strapped bookseller said it is taking steps to delay payments to vendors as it works to refinance its debt.
Early Friday, CVS Caremark (CVS, Fortune 500) announced it plans to acquire Universal American's (UAM, Fortune 500) Medicare Part D prescription drug business for $1.25 billion. CVS stock fell 0.6%, while Universal American shares surged 40%.
World markets: European stocks ended lower. Britain's FTSE 100 and France's CAC 40 fell 1.2%. Germany's market was closed.
Asian markets ended mostly higher in quiet trading. The Shanghai Composite gained 1.8%, and the Hang Seng in Hong Kong rose 0.2% during its half-day session. Japan was closed.
Currencies and commodities: The dollar lost ground against the euro, the Japanese yen and the British pound.
Oil for February delivery gained $1.54 to settle at $91.38 a barrel.
Gold futures for February delivery rose $15.50 to settle at $1,421.40 an ounce.
Bonds: The price on the benchmark 10-year U.S. Treasury rose in shortened trading, pushing the yield down to 3.3% from 3.37% late Thursday.