Financial fix: When your risk tolerance differs from your spouse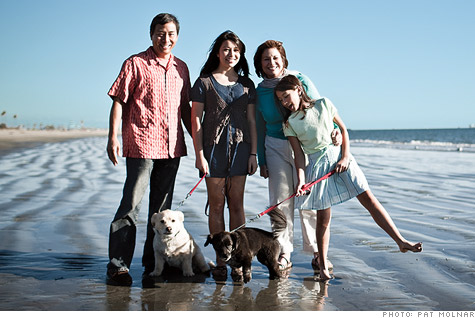 (MONEY Magazine) -- During the 2008 market melt-down, Kevin and Amy Toy were a study in contrasts.
Kevin, who had invested nearly all of their retirement money in stocks, stayed calm. "I'm holding on for several years," he remembers thinking. "I sleep well at night."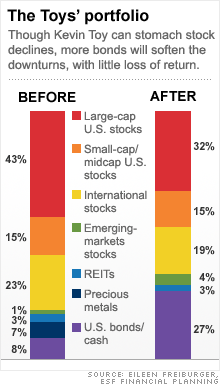 Not so relaxed was Amy, a former educator (she launched a summer camp at Sea World San Antonio) who was home full-time with their daughters, Jocelyn and Ava, now 14 and 10. "He said, 'It'll come back,'" she recalls. "I said, 'Are you kidding? We lost half our money!'"
Two years later, Kevin's steadfastness has paid off -- their portfolio is nearly back to even. But the fear divide remains.
The home they bought for $980,000 in 2007 has lost more than $300,000 in value. Kevin thinks the drop is irrelevant since they expect to stay put. Amy fears that the $788,000 mortgage threatens their retirement; she's training to be a nurse in part to help make extra payments.
Still unperturbed by market risk, Kevin's only fears are that investment expenses might be cutting into their returns -- and that maybe the couple aren't being daring enough.
THE STATS
Age: Kevin, 48, and Amy, 51
Occupation: Program manager (Kevin) and nursing student (Amy)
Location: Long Beach, Calif.
Income: $216,500
Assets: $743,000 in retirement savings; $99,000 in college funds
Goals: Retire at age 65 or later; pay for their two daughters' college education
THE PROBLEM
While Kevin deserves credit for not panicking, Amy is right that a 92% stock allocation is too risky, says Manhattan Beach, Calif., financial planner Eileen Freiburger.
The same goes for the girls' college savings plans, which are 100% in stock funds. The Toys are needlessly leaving themselves vulnerable to another big setback. With a less aggressive portfolio, "you won't miss it on the upside," she tells them. "You'll feel it on the downside."
THE ADVICE
Dial-back stocks: Hike their stake in cash and bonds from 8% to 27%, says Freiburger. Selling stocks shouldn't trigger a tax hit, since much of the Toys' money is in tax-favored accounts. And take advantage of the once-a-year chance to swap 529 investments and switch to funds that shift toward bonds as the girls approach college.
Think independently: Much of the Toys' portfolio has been invested, via their broker, in high-cost funds. Those fees might be worth it if they were getting comprehensive planning services, says Freiburger, but the Toys say they aren't. Kevin should consider running the family's money, using low-cost exchange-traded funds. "It may not be as difficult as you think," she says.
Prepay the house: The Toys can't refinance their 5.9% mortgage because their home is now underwater. But they are making extra loan payments, and Freiburger says that's smart. The interest deduction is not a compelling reason to draw out the loan. They'll enjoy peace of mind from an early payoff.