Financial fix: Don't be so agressive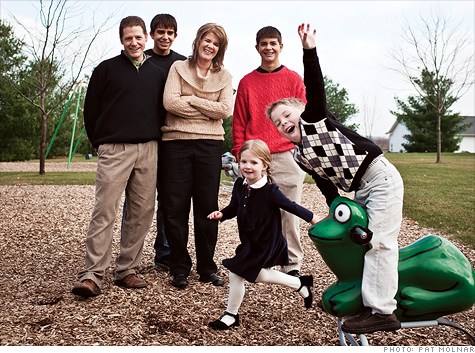 (MONEY Magazine) -- When Brian Allison started investing, he was unmarried and decades from retirement. So he snapped up growth stocks for his IRAs.

"I knew that the market would roller-coaster," he says. "I wasn't too concerned."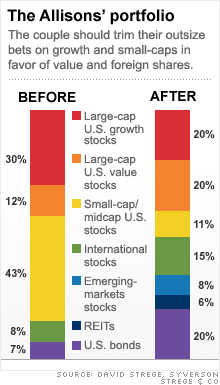 Brian, an information technology director for a lip-balm manufacturer, is now in his forties, as is his wife, Denise, who works for a Head Start program. The couple have four children, ranging from a 4-year-old to a high school junior.
And they're less sure that their aggressive investing style -- 93% of their retirement savings in stocks, heavily favoring expensive yet fast-growing companies over cheaper, less glamorous ones -- makes sense anymore.
Nor are they sure they'll have enough money for college and retirement and still "live life along the way," says Denise. "I could diversify by opening more IRAs," says Brian, "but is that the best way to do it?"
THE STATS
Age: Brian, 41, and Denise, 40
Occupation: IT director and health care consultant
Location: Marion, Iowa
Income: $110,000
Assets: $200,000 in retirement savings; $40,000 in 529 college plans
Goals: Cover four years of in-state college expenses for each of their four children; retire at 65
THE PROBLEM
Indeed, the Allisons' portfolio is too heavy on growth stocks, says West Des Moines financial planner David Strege. They're taking excessive financial risk elsewhere too: The teenage sons' 529 college savings plans are invested in an aggressive growth fund, inappropriate for kids so close to college. Part of their emergency savings is in a growth-stock fund, too.
And the couple's goal of providing state-college tuition, room, and board for four kids isn't feasible. Between Brian's company-matched 401(k) contributions (8% of his salary) and Denise's state pension, their retirement is on track. But to fund their kids' college completely, they'd have to save far more than they can afford, Strege calculates.
THE ADVICE
Scale back on school: The Allisons should contribute $500 a month to college funds for Joshua, 16, and Jacob, 15, until the boys earn degrees, then switch to saving for Benjamin, 6, and Katelyn, 4.
That way, says Strege, they'll cover roughly three-quarters of Iowa public college costs, now $21,000 a year.
And they should move the 529s into age-based plans that become more conservative as the kids approach school.
Brian is holding out hope for scholarships, but adds, "We're going to work as hard as we can to put away the money, and see where the chips fall."
Don't concentrate so much: Along with moving their retirement portfolio to a roughly 80/20 stock/bond mix, the Allisons should be more evenly invested between growth and value stocks.
"When you get focused in just one asset class," says Strege, "you have to be real careful."
For a core S&P 500 index fund, he suggests the Schwab Fundamental US Large Company Index Fund (SFLNX), which tilts slightly toward value.
Brian agrees with Strege's advice: "It's probably time to start steering the assets away from aggressive stuff," he says.
Keep it simple: In the past, Brian opened a new IRA every time he invested fresh money. Though he says it's easy for him to track his holdings, Strege suggests consolidating his IRAs at a single firm. Otherwise, he says, "life gets more complicated."
Move overseas: The couple should trim their outsize bets on growth and small-caps in favor of value and foreign shares.