Financial fix: We're scared to look at the portfolio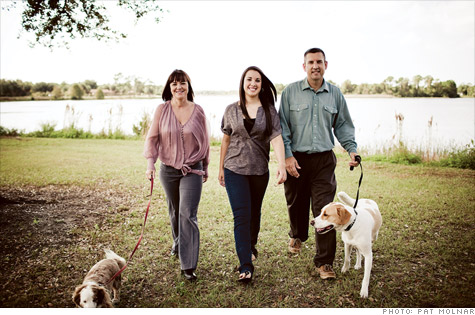 (MONEY Magazine) -- In 2006, Kris and Steve Blake were struggling under the weight of the $65,000 in debt they'd racked up buying cars, real estate, and an RV. And they were clashing over Steve's weakness for grownup toys boats, motorcycle gear, even a tricked-out golf cart.
Then, inspired by anti-debt guru Dave Ramsey, they repaid that debt in three years (their home is mortgage-free, too), and reached a financial truce: Steve can play with half his overtime pay while Kris manages the rest of the family's money.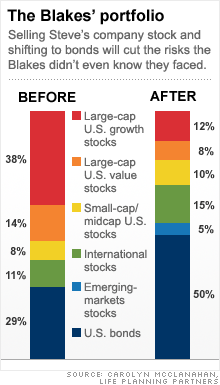 Despite their cleaned-up balance sheet, the Blakes are at a loss when it comes to the logical next step: investing for the future.
Their dream is to leave work by 62 and build a home on 10 acres they own in northern Florida. They have a quarter of a million saved, but Kris, who has tried unsuccessfully to get Steve more involved with their finances, struggles to understand what they own.
When stocks took a dive, she was too afraid to touch the portfolio. Post-recovery, she's just as afraid she'll mess up.
The extra cash they once used to pay down debt helps support their 21-year-old daughter, Kelly, who's training to be a firefighter, and funds a home renovation. But soon they'll have savings to invest.
THE STATS
Age: Kris, 49, and Steve, 50
Occupation: Closed-captioner (Kris) and guidance system assembler (Steve)
Location: Largo, Fla.
Income: $105,000
Assets: $250,000 in retirement savings: 10 acres of Florida land worth $65,000
Goals: Retire by age 62 in a newly built home
THE PROBLEM
Not only do the Blakes not know what they own, but they also have a poor handle on how much investment risk they can handle, says Jacksonville planner Carolyn McClanahan.
Case in point: On the risk-tolerance questionnaires she asked the Blakes to fill out, both said they could stomach a 12% loss, but both also said they couldn't live with a $120,000 loss in a $1 million portfolio -- also a 12% loss.
Regardless, the Blakes are clearly more risk-averse than their current 71% stock/29% bond portfolio indicates. Happily, the couple don't need such a risky mix because they've proven they have the willpower to save.
Steve puts 10% of his pay in his 401(k), Kris contributes 4% to her plan, and they will be able to set aside another $2,300 a month about a third of their income in total.
"They're very motivated," says McClanahan. "They had a choice of spending or reaching for their goal of financial independence. And that's what they chose."
THE ADVICE
Reduce the risk: Shift to a 50/50 stock/bond mix in Steve's 401(k) and Kris's 403(b). With their high savings rate, they could still build a $790,000 nest egg by retirement.
A key move: Sell the 35% of Steve's 401(k) that's in company stock. "There's no need to invest more with a company you're already so invested with," says McClanahan.
Keep saving strenuously: First, says McClanahan, the Blakes should max out Roth IRAs. They'll want to hold on to the Roth money the longest for tax reasons, so she suggests using it for aggressive investments such as the Vanguard Small-Cap ETF (VB).
The rest of their savings should go into a money-market fund earmarked for their next home; in 10 years it should be worth $222,000.
"I feel a lot less stress now," says Kris, "because I really thought we were a lot further behind."