Financial fix: Planning a legacy for heirs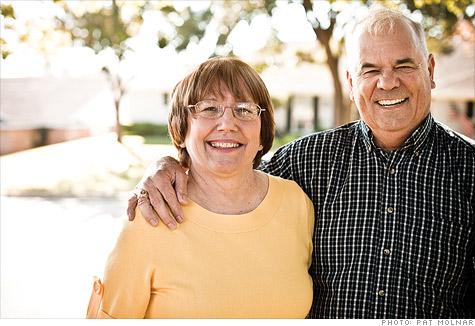 (MONEY Magazine) -- Donald and Marguerite Marburger lead a comfortable life in retirement, but they still have financial worries.
They fret that their two children and their families, who live near them in the Dallas area, won't be as well off as they are.
More urgently, they worry that Marguerite, a retired schoolteacher, would struggle financially if Don, a former Air Force navigator and later a teacher himself, were to die first.
The loss of Don's full military pension and lower Social Security would leave Marguerite with half the income they bring in now (she'd still collect the teacher's pensions).
What's worse, Don, unnerved by the 2008 market decline, sold virtually all their stocks in October of that year and has been moving in and out of the market ever since.
Marguerite is concerned about Don's health, given the market-induced sleeplessness that Don, normally the calmer of the two, has suffered in recent years.
"I believe stress kills you," she says, "and at our age we don't need any."
THE STATS
Age: Marguerite, 64, and Donald, 67
Occupation: Both retired
Location: Rockwall, Texas
Income: $88,000
Assets: $978,000 in retirement savings; $20,000 in 529 plans (for four grandchildren)
Goals: Protect Marguerite's standard of living if Don predeceases her; leave a legacy for children and grandchildren
THE PROBLEM
As brave as Don must have been to fly missions in Vietnam (and face down a classroom full of sixth-graders), he isn't comfortable with the financial risk he's taking, says Deena Katz, a financial planner who also teaches at Texas Tech University.
He needs a portfolio that will not only meet his goals but also let him sleep at night. The good news: Despite the Marburgers' love for travel, they save $2,500 a month. So they can afford to be much less aggressive with their portfolio.
"You don't have to maximize returns," says Katz. "You only need enough to get you where you want to go."
THE ADVICE
Find a mellower mix: In place of the Marburgers' asset allocation of 62% stocks and 38% bonds, Katz says a mix that's 45% in stocks will be safer yet still provide for Marguerite.
"If the market dropped like a rock," says Katz, "she'd be okay."
Marguerite could withdraw $35,000 a year (and adjust for inflation annually), enough to replace Don's Air Force pension and also leave behind a sizable estate.
But Don fears that mix would threaten his secondary goal of leaving money for heirs. "I don't want to go below 50% stocks," he says. "That's my cutoff."
Make fewer moves: Jumping in and out of stocks, says Katz, "is a good recipe for buying high and selling low." She suggests Don limit his trades to a $100,000 slice of the couple's holdings.
Don, however, can't commit to buying and holding. "Sometimes it's better to stay out of the market," he says.
Look for help now: If Don were to die first, Marguerite says she'd hire a financial adviser. Katz tells her to line one up right away. "When you're going through the grieving process," she says, "that's not a good time to look."