Dow climbs again in 3-day winning streak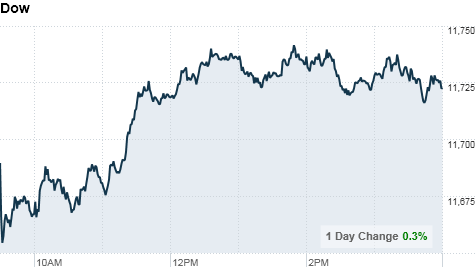 NEW YORK (CNNMoney) -- U.S. stocks climbed Wednesday, with the Dow posting a fresh two-year high for the third day in a row, as investors started to position themselves for the new year.
"The past year was pretty good and it seems to me that in the new part of the new year, you're kind of repositioning your portfolio in some way that suits your temperament," said Peter Tuz, president at Chase Investment Counsel of Charlottesville, Va.
At the closing bell, the Dow Jones industrial average (INDU) was up 32 points, or 0.3%, to a new 2-year high of 11,723. The Dow keeps breaking new 2-year highs, as it approaches 11,800.
Of the Dow's 30 components, 18 rose, with financials American Express (AXP, Fortune 500), Bank of America (BAC, Fortune 500) and JPMorgan Chase (JPM, Fortune 500) leading the way.
Meanwhile, the S&P 500 (SPX) added 6 points, or 0.5%; and the Nasdaq (COMP) gained 21 points, or 0.8%.
Traders and economists alike are generally more optimistic about the economy in 2011. Earlier Wednesday, two separate reports signaled a brightening jobs picture and stoked optimism that the government's monthly labor report on Friday will also bring good news.
"My expectation is employment will start picking up a little steam just because the economy is picking up," said Erick Maronak, managing director at Victory Capital Management. "CEOs and management teams are expected to hire at a better clip his year than last, and that correlates with their investments overall."
Stocks started the year with a bang, but have had volatile trading days this week as investors pick and choose their spots.
Following better-than-expected reports on factory orders and auto sales, the major indexes ended a tumultuous session mixed Tuesday.
Economy: Before the opening bell, outplacement firm Challenger Gray & Christmas reported that planned job cuts fell 59% to 530,000 in 2010 -- the lowest level in 13 years.
Meanwhile, private sector payrolls soared by 297,000 in December, according to a separate report from payroll processor ADP. Economists surveyed by Briefing.com were expecting the report to show that payrolls increase by 100,000 last month, compared to November's 93,000 rise.
The two reports set a positive tone ahead of Friday's monthly jobs report. Economists expect employers boosted payrolls by 135,000 in December, following a 39,000 increase in November.
After the opening bell, a report from the Institute of Supply Management showed that activity in the service sector picked up last month. The index rose to 57.1 in December, topping forecasts, and up from 55 in November. Any reading above 50 signals expansion.
Meanwhile, Republican and Democratic leaders launched the 112th Congress, with the GOP taking control of the House after four years of Democratic control. The new Congress pledges to make job creation its first priority.
Companies: Walt Disney (DIS, Fortune 500) rose 2.5%, hitting a 52-week high, after both Morgan Stanley and Goldman Sachs released bullish research reports about the media company.
In a letter released by the Securities and Exchange Commission Tuesday, insurance giant AIG (AIG, Fortune 500) reported it had received a $3 billion bid for its Taiwan unit back in November. The news sent AIG shares surging 7.3% Wednesday.
Wireless tech giant Qualcomm (QCOM, Fortune 500) agreed to buy chip maker Atheros Communications (ATHR) for $3.1 billion in cash, or $45 per share, a 22% premium over Atheros' closing price on Monday. Shares of Atheros rose 1.5%, while Qualcomm's stock rose 2.1%.
Family Dollar Stores (FDO, Fortune 500) tumbled 8.8%, after the discount retailer reporter first-quarter earnings that fell short of analyst expectations. Family Dollar earned 58 cents per share, below analysts' expectations of 61 cents per share.
Expedia and Orbitz also posted major gains Wednesday, as did American Airlines' parent AMR Corp. (AMR, Fortune 500) after an AMR executive said he hopes to reach an agreement with the online travel agents to let them resume booking American flights.
The discount airfare websites are in a heated sales dispute with the carrier after American pulled its fare data to sell flights on its own system.
Expedia (EXPE) shares gained 4.1%, Orbitz Worldwide (OWW) rose 2.1% and AMR rallied 5.8%.
World markets: European stocks ended mixed. Britain's FTSE 100 rose 0.5%, while the DAX in Germany fell 0.5% and France's CAC 40 slipped 0.6%.
Asian markets also ended mixed. The Shanghai Composite ticked down 0.5% and Japan's Nikkei fell 0.2%, while the Hang Seng in Hong Kong rose 0.4%.
Currencies and commodities: The dollar rose against the euro, the Japanese yen and the British pound.
Oil for February delivery gained 92 cents to settle at $90.30 a barrel.
Gold futures for February delivery fell $5.10 to settle at $1,373.70 an ounce.
Bonds: The price on the benchmark 10-year U.S. Treasury fell, pushing the yield up to 3.47% from 3.34% late Tuesday.