After rocky day, stocks end mixed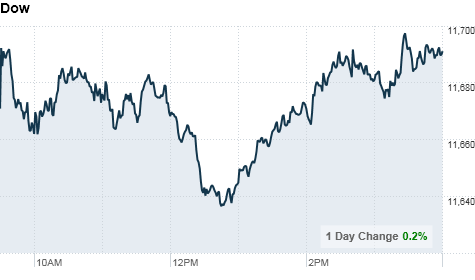 NEW YORK (CNNMoney) -- After a tumultuous day, U.S. stocks ended mixed Tuesday, as investors mulled over reports on auto sales, factory orders and the Federal Reserve's December meeting.
Stocks struggled for direction all day. After losing as much as 0.3% mid-day, the Dow Jones industrial average (INDU) ended the session up 20 points, closing at a fresh two-year high of 11,691.
Meanwhile, the S&P 500 (SPX) was down 2 points, or 0.1%; and the Nasdaq (COMP) fell 10 points, or 0.4%.
Throughout the day, investors weighed a better-than-expected factory orders report with concerns that stocks may be overextended, after posting double-digit percentage gains in 2010.
"We've had such a run here in the last four weeks, without any downside relief," said Rich Ilczyszyn, a market strategist with futures-broker Lind Waldock. "It's a normal market reaction, as we go up for a month or so and then we pull back."
Stocks ended 2010 with their best December since 1991, and some traders think they may have gotten a bit ahead of themselves. As a result, stocks were held back Tuesday as some investors tried to reap the rewards of their 2010 bets now -- in case the market falls back in January.
Traders also mulled over the minutes from the Federal Reserve's latest meeting in December, which showed that the central bank's policymakers remain committed to the purchase of $600 billion in U.S. Treasurys as a means of stimulating the economy.
Anticipation of that stimulus policy, referred to as "quantitative easing" or "QE2," had fueled bullish stock market gains in the second half of 2010. Investors had grown concerned about whether the Fed will follow through with the full $600 billion program in 2011.
The minutes alleviated some of those fears.
"Takeaway number one is they're not going to stop QE2 right now," said Doug Roberts, chief investment strategist at Channel Capital Research. "And it looks like from this, they're not as hesitant about QE3 as one might think."
Stocks are coming off a rally on Monday, when the Dow closed at a fresh two-year high.
Economy: After the opening bell, the Commerce Department reported that November factory orders rose 0.7% in November, following a 0.7% decrease in October. Analysts surveyed by Briefing.com had expected total orders to fall by 0.3% during the month.
Investors also watched as major auto companies release their December sales figures throughout the day. General Motors was the first to report Tuesday morning, saying it ended a challenging 2010 with a bang.
GM's U.S. sales rose 8% in December from a year earlier -- the company's best sales month of the year. GM (GM) shares rose 2.3% after the news.
Ford Motor (F, Fortune 500) shares rose 0.8% after the company reported December sales were up 4% from a year ago.
Analysts surveyed by Briefing.com had expected overall auto sales for December to drop to 3.7 million, from 3.8 million the previous month. The fact that most automakers reported a strong sales month raised hopes for the industry heading into the new year.
Reports on jobless claims, job cuts and manufacturing are on tap later in the week, and the government's closely-watched jobs report is due Friday.
Economists expect the monthly report to show employers boosted payrolls by 135,000 last month, after adding 39,000 jobs in November.
Also on Friday, Federal Reserve Chairman Ben Bernanke is scheduled to testify before the Senate budget panel.

Companies: Motorola's long-awaited split into two separate companies went into effect at the start of trading Tuesday. The company's cell phone business now operates as Motorola Mobility Holdings Inc., under the stock symbol MMI (MMI). Motorola Solutions Inc., a company that makes other telecommunications gear, trades under MSI (MSI).
Motorola Mobility shares debuted at $31.17, and Motorola Solutions shares started at $37.30.
Shares of BP (BP) rose 2.5% after London newspaper the Daily Mail reported Royal Dutch Shell (RDSA) previously considered making a bid for the oil giant during the Gulf oil spill. Royal Dutch Shell shares rose 0.6% in .
Borders Group (BGP) stock fell 12.5%, after the company announced late Monday that its general counsel Thomas Carney and Chief Information Officer D. Scott Laverty both resigned.
World markets: European stocks were mixed, with Britain's FTSE 100 starting 2011 with a bang. The FTSE soared 1.7% in its first trading day of the new year, while the DAX in Germany fell 0.3% and France's CAC 40 rose 0.3%.
Asian markets ended the session higher. The Shanghai Composite jumped 1.6%, the Hang Seng in Hong Kong ticked up 1% and Japan's Nikkei gained 1.7%.
Currencies and commodities: The dollar lost ground against the the British pound, but gained versus the Japanese yen and the euro.
Oil for February delivery fell $2.17 to settle at $89.38 a barrel.
Gold futures for February delivery pulled back from the previous session's highs, slipping $44.10 to settle at $1,378.80 an ounce.
Bonds: The price on the benchmark 10-year U.S. Treasury fell, pushing the yield up to 3.34%.