Bank stocks drag markets lower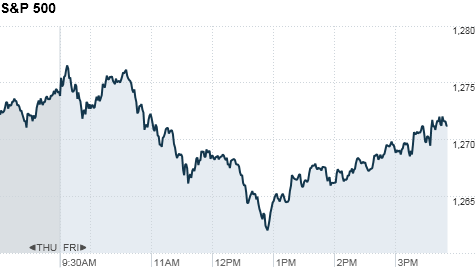 NEW YORK (CNNMoney) -- U.S. stocks came off session lows but ended weaker Friday afternoon after a court ruled against Wells Fargo and US Bancorp in a foreclosure case. The ruling sparked a sell off in bank stocks that rippled through the broader market.
The Dow Jones industrial average (INDU) ended down 23 points, or 0.2%, with Travelers Companies (TRV, Fortune 500), JPMorgan Chase (JPM, Fortune 500) sandbank of America (BAC, Fortune 500) leading the decline. Earlier, the blue chip index had lost 97 points.
The S&P 500 (SPX) finished off 2 points, or 0.2%, and the tech-heavy Nasdaq (COMP) lost 7 points, or 0.3%.
The KBW Bank Index (BKX) dropped almost 1%.
Investors also reacted to the government's latest reading on the labor market.
The U.S. economy added slightly fewer-than-expected jobs in December, but the unemployment rate edged lower than economists had anticipated.
"Investors are torn," said Jack Ablin, chief investment officer at Harris Private Bank. "They are disappointed by the number of jobs added, but are perhaps celebrating a lower unemployment rate."
Wall Street geared up for the jobs report all week. Investors were hoping to see signs of an improving job market, but were left underwhelmed.
"The report has basically become a non-event," said Ron Kiddoo, chief investment officer at Cozad Asset Management. "If we had seen a better number, investors would have used the news to drive stocks higher."
Despite the lackluster day on Wall Street, stocks have had a good start to the new year. For the week, the Dow and S&P closed up about 1%, while the Nasdaq has gained almost 2%.
On Thursday, stocks ended mixed as the dollar strengthened. Investors spent the day mulling a rise in jobless claims, and softer-than-expected same-store retail sales.
Economy: The government's monthly jobs report showed employers boosted payrolls by 103,000 last month, rising from an upwardly revised 71,000 in November. The December number was lower than expected, with a CNNMoney survey of 27 economists looking for a 150,000 gain last month.
The government report was disappointing in light of payroll processor ADP's report on Wednesday that 297,000 jobs were created in the private sector last month.
"While it's disappointing that the labor market didn't improve as much as we thought it would after the ADP report, the overall trend is still positive," said McCain. "The report is a speed bump, but markets will ultimately shake it off and look at how the economic data comes in the next couple of months."
Meanwhile, the unemployment rate dropped to 9.4% from 9.8%.
Following the jobs report, Federal Reserve Chairman Ben Bernanke told the Senate Budget Committee there is increased evidence that a self-sustaining recovery may be taking hold. He added that the pace of the recovery will be "moderately stronger in 2011 than it was in 2010."
A report from the Federal Reserve showed consumers increased their debt for a second straight month in November. Consumer credit increased $1.35 billion during the month. Economists were estimating a decline in total borrowing of $2.5 billion after an increase of $7.0 billion in October, according to a consensus estimate from Briefing.com.
Companies: Bank stocks sank after U.S. Bancorp (USB, Fortune 500) and Wells Fargo (WFC, Fortune 500) lost a case in Massachusetts' highest court. The ruling comes as attorneys general in all U.S. states are investigating foreclosure practices.
Shares of Wells Fargo dropped 2%, while US Bancorp's stock fell 0.8%.
Before the opening bell, KB Home (KBH) released quarterly earnings that beat expectations. The company reported profit per share of 23 cents, compared to the loss of 17 cents expected by analysts surveyed by Thomson Reuters. Shares of the company jumped 6.4%.
Shares of Best Buy (BBY, Fortune 500) closed slightly higher even after the consumer electronics chain said same-store sales fell 4% in December.
World markets: European stocks closer lower. Britain's FTSE 100 dipped 0.6%, the DAX in Germany edged down 0.5% and France's CAC 40 dropped 1%.
Asian markets ended mixed. The Shanghai Composite finished 0.5% higher and Japan's Nikkei ticked up 0.1%, while the Hang Seng in Hong Kong fell 0.4%.
Currencies and commodities: The dollar gained against the euro, but lost ground versus the Japanese yen and the British pound.
Oil for February delivery rose fell 35 cents to settle $8.03 a barrel.
Gold futures for February delivery fell $2.80 to settle at $1,368.90 an ounce.
Bonds: The price on the benchmark 10-year U.S. Treasury rose, pushing the yield down to 3.33% from 3.41% late Thursday.