Stocks stall ahead of December jobs report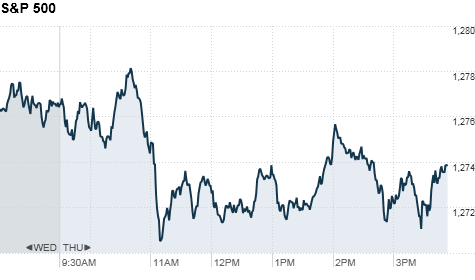 NEW YORK (CNNMoney) -- U.S. stocks ended mixed Thursday afternoon, as the dollar strengthened and investors mulled a rise in jobless claims and softer-than-expected same-store retail sales ahead of the December jobs report due Friday.
The Dow Jones industrial average (INDU) finished down 26 points, or 0.2%, with shares of Verizon (VZ, Fortune 500), Travelers Companies (TRV, Fortune 500), and AT&T (T, Fortune 500) leading the decline. Meanwhile Microsoft (MSFT, Fortune 500), Boeing (BA, Fortune 500), and Hewlett Packard (HPQ, Fortune 500) posted the biggest gains.
The S&P 500 (SPX) fell 3 points, or 0.2%, as weak retail sales weighed on the broad index. Gap (GPS, Fortune 500) and Target (TGT, Fortune 500) were among the biggest losers.
The tech-heavy Nasdaq (COMP) gained 8 points, or 0.3%, led by a 13.8% jump in shares of chipmaker Nvidia (NVDA).
Stocks have trended upward this week, as positive economic reports have buoyed investor confidence about the recovery. Wednesday's strong report on private sector payrolls from ADP helped push the Dow to a fresh two-year high for the third day in a row.
Though investors are hoping that the government's monthly employment figures due before the opening bell Friday will also show signs of a brightening jobs pictures, they hesitated to take big positions Thursday.
"Yesterday's report on private sector payrolls was extremely strong, but today's data on unemployment claims puts the reliability of that number in question," said Dave Hinnenkamp, CEO of KDV Wealth Management. "It's crucial that the monthly figures tomorrow come in strong. Anything less than expected will be a major disappointment to the market."
Economy: The Labor Department reported that the number of Americans filing for first-time unemployment benefits ticked back above 400,000 last week -- rising by 18,000 to 409,000 in the latest week.
Economists surveyed by Briefing.com had expected jobless claims to increase to 405,000.
On Friday, the government's monthly jobs report is expected to show employers boosted payrolls by 150,000 last month, following a 39,000 increase in November, according to a CNNMoney survey of 27 economists.
That comes on the heels of a report from payroll processor ADP issued Wednesday, showing that private-sector employers added 297,000 jobs in December. Economists had been looking for a rise of 100,000.
Companies: Monthly same-store sales figures are due throughout the morning from major retailers. So far sales results are coming in weaker-than-expected, with retailers citing the major snowstorm that hit the East Coast, extra deep discounts and shopper fatigue. Analysts polled by Thomson Reuters expected an overall gain of 3.4% from a year ago.
Before the opening bell, Costco (COST, Fortune 500) logged a 6% jump in December same-store sales, beating the 6.2% increase expected by a Thomson Reuters consensus of analysts. Shares of the retailer finished slightly lower.
Shares of Target (TGT, Fortune 500) and Gap (GPS, Fortune 500) fell almost 7% after the retailers' December same-store sales missed big. Sales at discounter Target rose just 0.9% compared to estimates for a 4% increase, and No. 1 clothing chain Gap's sales fell 3% despite heavy discounts in December.
Shares of MetroPCS Communications (PCS) sank 6.7% after the prepaid wireless provider said its fourth-quarter subscriber growth slowed from the prior quarter, when it tripled the number of customers it signed up.
Shares of BP (BP) edged lower after the National Commission on the BP Deepwater Horizon Oil Spill and Offshore Drilling released a report spreading the blame for the Gulf of Mexico oil spill. The commission said that problems with deepwater drilling are "systemic" and that only "significant reform" will prevent another disaster.
World markets: European stocks finished mixed. Britain's FTSE 100 fell 0.4%, while the DAX in Germany rose 0.6%. France's CAC 40 finished unchanged.
Asian markets ended the session mixed. The Shanghai Composite slipped 0.5%, while the Hang Seng in Hong Kong edged up 0.1% and Japan's Nikkei rose 1.4%.
Late Wednesday, Chinese Vice Premier Li Keqiang said China will buy about 6 billion euros ($7.9 billion) of Spanish government debt, according to news reports citing Spanish newspaper El Pais.
Currencies and commodities: The dollar rose against the euro for a fourth consecutive day, rising more than 1% to $1.3016. It also rose 0.3% against the British pound. The greenback edged up slightly versus the Japanese yen. The dollar index, which measures the U.S. currency against a basket of rival currencies, rose 0.6%.
A stronger buck weighs on commodity prices, which are priced in dollars.
Oil for February delivery lost $1.92, or 2.1%, to settle $88.38 a barrel.
Gold futures for February delivery fell $2.00, or 0.3%, to settle at $1,371.70 an ounce.
Bonds: The price on the benchmark 10-year U.S. Treasury rose, pushing the yield down to 3.41%, from 3.47% late Friday.