How Ford did it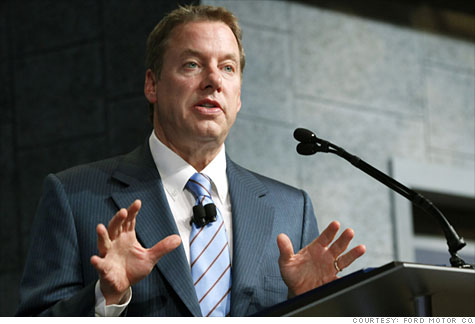 FORTUNE -- Why is Ford doing so well? Just yesterday, the New York Times reported that the car maker would pay bonuses of $5,000 and more to its hourly workers, "perhaps the largest in a decade," according to the paper. Wasn't the American car industry doomed just a year ago?
For Ford, the answer to the question of its success rests not just in its lineup of snazzy new cars. After all, the models we're seeing today, from the Focus, now the brand's dedicated electric platform, to the reinvented Taurus, were germinated around and during the dire days of the financial crisis and its aftermath in 2008.
And its success is not just because Ford Motor Co. (F, Fortune 500), alone among Detroit's Big 3, didn't take TARP money from the U.S. Government, or declare bankruptcy. Its success is not just because company made a daring move to mortgage all of its assets in 2006, including the blue oval, presciently giving itself a cash cushion at a time when cash would soon be in short supply.
No, it's really the prelude to these last 4 years that positioned Ford correctly for its current run, stemming from the decision of a Ford family scion to give up the CEO job and let an automotive outsider run the show. In the course of interviews with employees up and down the ladder at Ford, the picture of success that emerges is one of dedicated employees making thoughtful decisions, allowing the company to finds its footing without relying on anything but its own people and principles to get there.
The chairman and the CEO
William "Bill" Clay Ford, Executive Chairman of the Board for Ford Motor Corporation, and former CEO, acknowledged that there may have been some gain from taking TARP money, "but nothing is forever, and people have short memories. So it is really up to [Ford] everyday to earn our respect. GM (GM) is a great competitor, and we know that. I like where we are positioned and I like that we have positioned ourselves to earn that respect."
Ford executives say they are doing so well because of detail to product. But "detail to product" is, without context, just a management speak cliché. What the executives are trying to say is that they take ownership, individually and jointly, of the products their company makes, and that ownership sensibility starts with the chairman of the board, Bill Ford.
Bill Ford didn't just hand over the reigns of the company to Alan Mulally, who he recruited from Boeing (BA, Fortune 500) after several competing auto industry executives turned down the CEO spot. As Executive Chairman, Ford is at work everyday, collaborating with Mulally on the direction of the company. "I talk to Alan many times a day, everyday. The way we like to work, our styles are very similar, we don't have formal meetings, we bounce back and forth between each others' offices. We don't like to have any kind of scheduled meetings. We communicate on every big decision, and a lot of little ones too."
Ford took a minute to be introspective about his relationship with Mulally, "It's been a great relationship both personally and professionally. When you enter into something like this you certainly enter into it with a professional viewpoint, but anything that may develop after that is an unknown. One of the pleasant things that has happened to me is how much I've enjoyed being around him as a person."
"The other thing is that it gives each of us someone to talk to. You may have heard the trite phrase, it's lonely at the top, but it's true. When you're CEO you can't let your hair down around almost anyone. You can't admit to fears, or moments of weakness, or indecision, but he and I can have those discussions."
Bill Ford is on the Board of eBay (EBAY, Fortune 500). Mulally is a member of Ford's Board of Directors, but only Ford's board. I asked Ford if it was mandated that Mulally was not allowed to be on any other Board. Ford said there was no such rule, and it was Mulally's decision not to be on any other board.
Mulally told me he just was too busy, claiming, "you can come here on a Saturday or a Sunday. I'm working."
Women at Ford
Mulally's employees, like Michelle, can attest to that. On a recent weekend Michelle, a former Lockheed (LMT, Fortune 500) employee, was working at a Ford sponsored Race for the Cure for cancer event, and Mulally stopped by and talked to her. They talked about the race, about her working for Lockheed while he worked for Boeing. "It was great that he came out, and we both agreed we were happy to be at Ford."
Michelle is an engineer for Ford. While reading some old SAE manuals, she figured out how to construct the new Ford Explorer windshield to decrease the noise it generated, "by half a zone." (Engineering speak for, "its quieter.")
Barb J. Samardzich, Vice President of Powertrain Engineering told me that 18% of engineers that graduate today are women. Things have changed for women in engineering: When Barb graduated only 5% of engineering degrees were awarded to women. Barb is now the highest ranked woman engineer at Ford, and Ford's VP of Human Resources told me that 18% of Ford engineers, mirroring the graduation rate, are women, too.
Ford's engineering prowess -- and inventiveness
Female engineers quite literally bring a new perspective to the cars Ford makes. For example, Dawn Piechocki, Engineering Supervisor, wanted a way to get in the pickup bed of the F-series trucks she was helping to design. The convenient integrated tailgate step with assist bar was her answer, and it's fast become a near-iconic symbol of Ford's attention to detail among truck buyers.
The engineering going on at Ford isn't just about conveniences though. Safety and innovation are paramount. A first on the Ford Explorer is curve control, a technology that slows a vehicle by ten miles per hour in one second if it detects the driver going around a curve recklessly. Todd Brown was the managing engineer for Ford's Brake Stability Control group who invented it. One night while at a restaurant by himself, Brown started playing with physics equations to try to make Ford's programming even better, leveraging the technology onboard the vehicle. On the back of a menu, Brown created curve control.
Dan Eisele then took over for Brown. Unlike software engineers whose work never leaves the computer screen, Eisele had to upload the software to a car and then drive it around Ford's test track to see if it worked. Eighteen months later, curve control was added to the Explorer.
The Chief engineer for the 2011 Ford Explorer, Jim Holland, showed me the package of little tweaks that gave the refreshed SUV twelve percent better fuel economy than the 2005 model. Holland says that it couldn't have been done without a collaborative effort between designers and engineers.
Financial independence allowed Ford to not lose ground during the economic crisis. A change in leadership allowed the company to make tough decisions, like selling off boutique brands like Jaguar and Volvo, in order to focus on improving its core products and getting the mass market to pay attention to Ford cars again.
But "detail to product" -- the company-wide attention to detail that most helped Ford earn its strong market position today -- says less about the products Ford makes, and more about the level of care among the people who make them. Ultimately then, the answer is that it's people, employees at all levels of the company, that made Ford's turnaround a reality.