Young car shoppers want an iPhone on wheels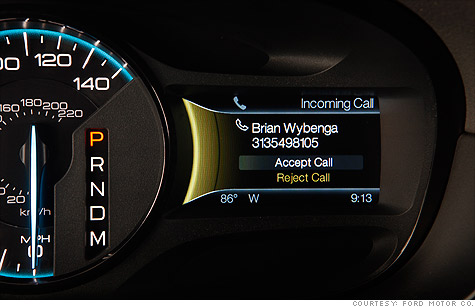 NEW YORK (CNNMoney) -- For car shoppers under the age of 31, the biggest factor in deciding what to buy isn't performance, fuel economy or comfort, it's the shopping experience and "cockpit technology," according to a recent study.
Cockpit technology includes things like Bluetooth phone interfaces, attachments for MP3 players and voice-to-text technologies that can allow people to interact with text messages or emails while driving.
There seems to be an intrinsic conflict between safety and drivers' desires to stay connected while driving.
Car companies will have to deal carefully with that issue, according to researchers at Carnegie Mellon's Tepper School of Business, one of four graduate schools that participated in the Deloitte study.
"Regulation keeps trying to say texting is distracting to driving, but for the consumer it is really the driving that is distracting to texting." the researchers said.
Distracted driving, and texting while driving in particular, has been a particular focus for Transportation Secretary Ray LaHood.
"In 2009, nearly 5,500 people were killed and another half a million more were injured due to distracted driving. Multitasking with communications devices behind the wheel has deadly consequences, and everyone has a personal responsibility to focus first and foremost on driving safely."
LaHood has been meeting individually with carmakers to discuss the issue, a spokeswoman for the secretary said.
Automakers are increasingly battling one another to come up with new systems to allow drivers to interact with portable devices while driving.
Ford Motor Co. has credited its Sync system with helping to boost sales. However, Consumer Reports magazine recently withheld its sought-after recommendation from two Ford crossover SUVs partly because the magazine's car testers found the latest version of the system confusing. Ford Chairman Bill Ford, speaking at the Detroit Auto Show, promised that improvements are being made.
General Motors, meanwhile, is adding new technology to it's OnStar system including an iPhone application and a system that allows drivers to update their Facebook status by voice.
Automakers will also have to keep up with the pace of change that's expected in these technologies. New cars typically take years to develop while new, improved cell phones and other portable devices come out every few months.
"To take a competitive advantage, automotive manufacturers must be in lock-step with the technology world so that new technologies (e.g., new mobile phone features) are immediately available in vehicles." the report said.
Although the study found that Gen-Yers are much more excited about buying a car than Baby Boomers and Gen-Xers, younger car shoppers aren't very patient when it comes to the dealership experience. More than half of those under 31 said a bad dealership experience would cause them to never consider a car brand again.
More than half also said the main reason to go to a dealer is merely for a test drive. They don't want to work with a car dealer face-to-face when buying a car, preferring to transact business over the Internet instead.
Social networking sites are the most popular way for them to research cars, with about two thirds saying they use services like Facebook and Twitter to get information about new vehicles.