Five Chinese trade tricks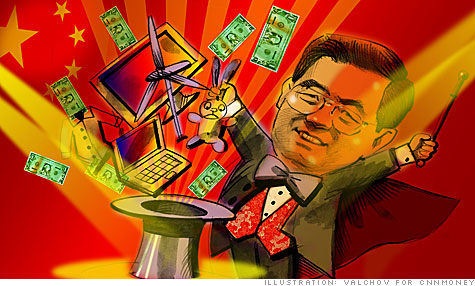 NEW YORK (CNNMoney) -- Chinese President Hu Jintao is visiting the United States this week, and simmering trade disputes between the two countries will likely be high on the agenda.
The United States and China, the world's largest and second largest economies respectively, do a brisk business in trade.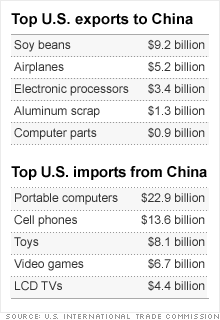 But the trade relationship between the two nations isn't balanced. The United States had a trade deficit with China of $263 billion in 2009 alone, which represents about two-thirds of our total trade deficit that year, according to the Commerce Department.
A trade deficit is bad for several reasons.
By buying so many Chinese goods, the country is literally sending its dollars abroad. The Chinese then use those dollars to buy U.S. government bonds. While that allows the United States to continue borrowing, it's bad because taxpayers must pay interest on those loans.
The trade deficit also means that the jobs that were needed to create all those products were created overseas, not here.
For years U.S. business has argued that the trade deficit with China isn't necessarily the fault of shoddy U.S. products or greedy U.S. consumers. They say China has specific polices in place that encourage this imbalance. Here are the top five:
Currency manipulation: It's the largest complaint from U.S. businesses, by far.
For the most part, China does not allow its currency to be traded freely. Instead it pegs it to the dollar, at what many say is an artificially low rate.
This is bad for U.S.-based manufacturers because it makes the cost of U.S. goods more expensive in China and makes Chinese products cheaper in the United States. Estimates are that the Chinese currency is undervalued by between 10% and 40%.
For American companies, "it's like starting a 100-yard race 40 yards behind," said Alan Tonelson, a research fellow at the U.S. Business and Industry Council, which represents smaller and mid-size manufacturers. "It's the number one issue they face."
China has allowed the yuan to appreciate a bit recently, but the Obama administration is likely to press for further and faster hikes. That request is unlikely to go far.
Export quotas and fees: When China joined the World Trade Organization 10 years ago it was allowed to place restrictions on the export of 84 valuable raw materials, according to trade lawyer Terence Stewart.
An example is fluorspar, a mineral used in refrigeration.
The Chinese government has a 15% export tax on fluorspar. The effect is to make the mineral cheaper in China than it is in the rest of the world. It also undoubtedly influences the decisions of refrigerator companies as to where they build factories.
China now has export restrictions on 340 products, in violation of WTO rules, and the list includes everything from coal coke used in steel making to rare earth elements used in high-tech gadgets, Stewart said.
"How does a country think that's an acceptable thing to do," said Stewart, who represents the United Steelworkers union. "You don't need your trading partners at your throat year after year after year."
Buy China: Stewart is currently representing the steelworkers in a case before the WTO involving Chinese requirements that windmills and other renewable energy technologies be mostly built in China, with Chinese designs, to be eligible for Chinese government subsidies.
China has a host of other "buy local" rules that require the manufacturing and the research and development of products to be done in China.
U.S. companies complain this puts them at a disadvantage and often requires them to share proprietary information with Chinese counterparts if they are to gain access to the lucrative Chinese market.
U.S. companies are also concerned about weak intellectual property rights in China. They accuse Chinese companies of stealing their designs and then selling them on the open market at a lower price.
Export subsidies: Like most countries, China has an import/export bank that helps facilitate trade.
But China's bank provides five times the money that its U.S. counterpart does, often in the form of below-market-rate loans to its exporters, said Stewart.
He says the end result is $300 billion in products that end up with subsidies that are in violation of WTO rules.
Dumping: This is when products are sold for export at prices below what they cost to produce.
The Chinese have been accused of dumping tires and, more recently, drill pipe for oil and gas wells onto the U.S. market, said Hamilton Loeb, head of the international trade practice at the law firm Paul Hastings.
Not the only trade magician
Of course, China isn't the only one that engages in what many say are unfair trade practices.
From billion dollar bailouts to "buy American" provisions in its own stimulus act, the United States is no stranger to the subsidy game.
And China, when it loses a case, almost always corrects the problem in short order, according to Nicholas Lardy, a senior fellow at the Peterson Institute for International Economics, a think tank.
The United States, by contrast, was ordered to open up its market to Mexican truckers five years ago. They still wait below the border, with the Mexican government imposing retaliatory fines by the day.
"It's a double standard," said Lardy. "If we're going to get the Chinese to reform, we're going to have to lead more by example."
As for what might be accomplished at this week's summit, Lardy said he's looking for incremental progress on a number of issues, but no big breakthrough.
"If there were easy solutions to these problems, which we've been dealing with for years, we would have come to them long ago."