Oil, gold, silver, copper cool off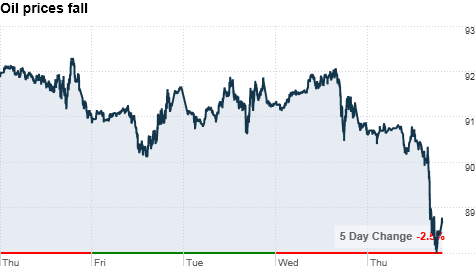 NEW YORK (CNNMoney) -- Oil, gold, silver and copper prices all staged a retreat this week, which analysts say isn't too surprising given the stellar run commodities had in 2010.
"I think that sentiment in many of these commodities has been very bullish," said MF Global senior vice president Andrew Lebow.
Commodities ended the year with a bang, with oil prices above $90 a barrel and gold hitting record highs, but the momentum was short lived. "The market is simply correcting here, and correcting sharply," said Lebow.
Despite $100 oil projections in 2011, crude prices have been easing. Oil prices for March delivery fell $2.11 to $89.70 a barrel on Thursday.
An inventory report showing a bigger-than-expected build up of crude supplies was also weighing on prices. Inventories grew by 2.6 million barrels last week, according to the Energy Information Administration, surprising analysts who were expecting supplies to fall by 2.2 million barrels.
Gasoline inventories were also up, rising by 4.4 million barrels and topping analysts expectations of an increase of 2.8 million barrels.
"The rise in gasoline stocks ..that's something to worry about...refinery margins in Europe are poor -that's worrisome," Lebow noted.
And speaking of Europe, Lebow said about Europe's debt troubles and concerns about the consequences of China's fast growing economic growth could also keep a lid on prices.
Gold fell $20.40 to $1,349.80 an ounce on Thursday, while silver prices also took a hit - dropping 4% to $27.60 an ounce. Copper prices eased 2%.
Although prices generally dropped across the board, natural gas bucked the trend - with prices jumping 2%.
"The weekly storage number from the government showed a stronger expected decline in the supply," said Jim Ritterbusch, president of Ritterbusch and Associates. With forecasts for more cold weather, natural gas prices will likely keep trending higher, he said.