Cocoa surges 4% as Ivory Coast bans exports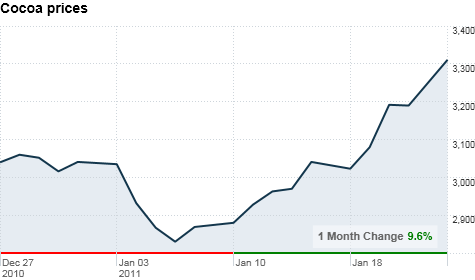 NEW YORK (CNNMoney) -- Cocoa prices surged more than 4% Monday, after the Ivory Coast called for a one-month export ban, potentially cutting off both chocolate-loving consumers and price-sensitive food companies from the world's largest cocoa supplier.
The tiny African country has been in the midst of political turmoil for more than a month, since incumbent President Laurant Gbagbo refused to relinquish his position after losing the general election to challenger Alassane Ouattara.
Ouattara, considered the legitimate winner by the United Nations and the United States, called for the export ban late last week. The ban could cut off a lucrative revenue source used to pay Gbagbo-loyal civil servants and military officers, ultimately forcing Gbagbo to step down.
The move comes at a cost both to the Ivory Coast, which relies heavily on agricultural commodities such as cocoa and coffee to fuel its economy, and the world's confectionary makers.
The Ivory Coast is by far world's largest supplier of cocoa beans -- providing between 30% and 40% of the world's supply. With all the unrest, prices will likely keep rising.
In fact, PFG commodities analyst Dan Flynn predicts cocoa prices could easily reach $3,550 per metric ton in the next few days. Cocoa is currently trading around $3,311 per metric ton.
And for U.S. consumers and U.S.-based candy companies, the export ban makes an already financially difficult situation worse. Cocoa prices have nearly doubled since 2006, and have been steadily rising since last November, when the trouble in the Ivory Coast began.
On top of that, food companies are under pressure as they try to combat rising ingredient prices without passing on the cost to recession-wary consumers.
"While the rise in cost [in cocoa] is not as sharp, sudden and unexpected as the previous hike in 2008, it undoubtedly re-introduces price pressure, and the requirement to pass on these higher costs to customers and consumers," wrote Barclays Capital analysts Susanne Seibel and Gabriela Malczynska in a note to investors.
The ban reportedly forced privately-owned food processing giant Cargill, which buys about 15% of its cocoa from the Ivory Coast, to shut down all cocoa operations in that country.
Mars Inc., the world's largest candy company, said in a statement that it was still working to understand the situation in the Ivory Coast but "we are certain that in the short term this will not impact our ability to manufacture the chocolate products that our consumers desire."
Hershey (HSY, Fortune 500) and Archer Daniels Midland (ADM, Fortune 500) both said they were monitoring the situation but declined to comment on the specific impact the cocoa export ban might have on their manufacturing capabilities.
Food industry analysts expect the quickly-rising price of cocoa may require food companies to institute price increases -- or at least have a reason to follow through with price increases. It comes at a time when consumers have already been dealing with generally higher food and energy costs, with the USDA saying it expects food prices to "accelerate" into the first six months of 2011.
"Food inflation is back, and we expect the leading manufacturers to implement price increases," said Barclay's Seibel and Malczynska.