Republican response: "We must act now"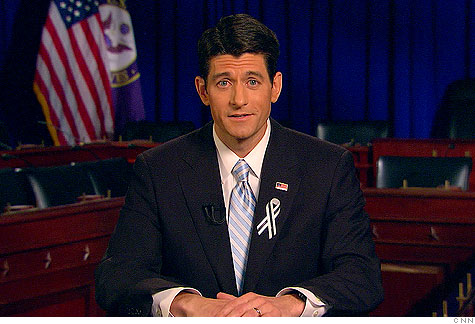 NEW YORK (CNNMoney) -- Rep. Paul Ryan, the Republican Party's resident budget wonk, slammed the economic policies of the Obama administration Tuesday night, and made the case that Republicans can do better.
Ryan, a 40-year-old Wisconsin native, delivered the Republican response to President Obama's State of the Union address, painting a stark picture of the challenges facing the nation.
"Our nation is approaching a tipping point," Ryan warned. "We are at a moment, where if government's growth is left unchecked and unchallenged, America's best century will be considered our past century."
And the reason for that, Ryan said, are the policies pursued by the Obama administration.
"[Obama] engaged in a stimulus spending spree that not only failed to deliver on its promise to create jobs, but also plunged us even deeper into debt," Ryan said before adding, "the unemployment rate remains above 9% and government has added over $3 trillion to our debt."
He also made a distinction between Obama's economic policies and those favored by Republicans.
"Our forthcoming budget is our obligation to you -- to show you how we intend to do things differently, how we will cut spending to get the debt down, help create jobs and prosperity, and reform government programs," Ryan said.
Ryan, a longtime member of the House Budget Committee, which he now heads, is steeped in the math of deficits and debt and has crafted his own fiscal overhaul plan.
That plan -- the "Roadmap for America's Future" -- proposes sweeping changes to Social Security, Medicare and the tax code that would be a significant departure from the status quo, and mainline Republican thinking.
On Tuesday, Ryan put aside his own ideas, instead presenting the Republican vision for America, with a laser focus on the deficit. And that's what Republicans are looking for.
"Last year -- in an unprecedented failure -- Congress chose not to pass, or even propose a budget. The spending spree continued unchecked. We owe you a better choice and a different vision," Ryan said.
Isabel Sawhill, an economist who studies fiscal issues at the Brookings Institution, said she agrees with Ryan that the country needs to reduce the deficit, but found the speech was not powerful enough.
"There were zero specifics here, and you don't expect a lot in this kind of speech," Sawhill said. "But you would have hoped there would be a little more than just the rhetoric that was there."
Ryan also referenced the sovereign debt crises of Ireland, Greece and other eurozone countries, warning that if action is not taken, the United States will be forced to impose austerity measures like nations in Europe have.
"Their day of reckoning has arrived. Ours is around the corner. That is why we must act now," Ryan said.
Ryan delivered the Republican address from the hearing room of the House Budget Committee, which plays a central role in setting targets for federal spending.
The message: Republicans are serious about cutting spending.
But Republicans weren't alone in putting an emphasis on spending.
Obama also focused on fiscal issues, proposing a 5-year freeze non-security discretionary spending.
"Now that the worst of the recession is over, we have to confront the fact that our government spends more than it takes in. That is not sustainable. Every day, families sacrifice to live within their means. They deserve a government that does the same," Obama said.