Flexible vacation policies are here to stay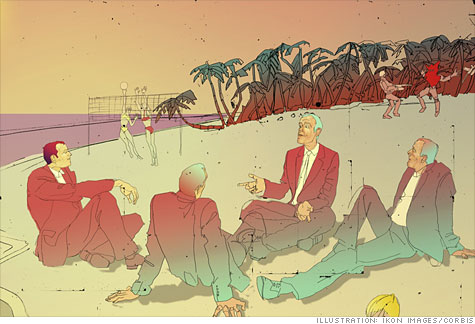 FORTUNE -- You're an adult. You know how to prioritize your time to do your job. So why should your company ration out vacation reluctantly and monitor when you spend it? Wouldn't it be nice to do away with vacation-day limits entirely, so you could leave work whenever you want for as long as you feel you need?
It sounds like a dream come true for many employees, but a growing number of companies are doing just that, adopting so-called flexible vacation policies that shift control over deciding when to take time off to employees and in many cases eliminating an allotted number of vacation days entirely. Netflix (NFLX) made headlines for this last year when the press got word of the company's flexible vacation policy -- there are no "days," employees can take what they want -- but a swell of other companies have let go of the reins on vacation time. Those that have say not only is the open policy rarely abused, it actually makes the work environment better.
A newcomer to our Best Companies to Work For list this year, investment research firm Morningstar (MORN), has a policy of limitless vacation days; employees can take what they want, when they want. Same goes for online investment information website Motley Fool and New York-based consulting company BlueWolf. Software company HubSpot also switched over to an unlimited vacation policy last spring.
But this isn't merely a flash fad for startups. IBM (IBM, Fortune 500) is said to have had flexible vacation time for every employee since 2003. People who work for the company simply give their supervisors a heads up, but otherwise, take time off when they want it. And Best Buy (BBY, Fortune 500) has a similar policy involving its workdays: Instead of tracking the hours employees work, the electronics company has implemented what it calls a "results only work environment," where workers are measured on achievement alone. (Neither Best Buy or IBM returned calls for comment.)
Paving a road to employee satisfaction
Experts say this attitude towards employee time can have major benefits. If implemented well, "it can afford employees a level of control over their own work styles and work pacing," says Mark Frame, an associate professor of psychology at Middle Tennessee State University who specializes in workplace psychology.
That feeling of control can go a long way in making employees happy, without being detrimental to the company, he says. "If you have employees who are committed to working towards their own goals and to the organization's goals, then the idea of giving them free rein on vacation time is not a big deal because they are going to be able to regulate their own progress."
Some companies may hesitate to loosen the reins on their vacation policies for fear that it will become a free-for-all. That doesn't really happen, says Bevin Desmond, president of international operations and global human resources at Morningstar.
Most people probably take off the standard two to three weeks, she says, but it's hard to say, since no one tracks it. "We make a point of not counting," Desmond says. "You only count it when it's a problem," she adds.
But Desmond says problems are rare, because employees feel accountable. "I have a guy on my team who takes off almost six weeks a year," she says, "but he works enormously hard the rest of the time." That isn't the norm, she points out, but it's the schedule that he wants, and the policy works for the company.
Angelique Keenley, head of human resources for Motley Fool, says issues with abusing the policy are often organically kept in check, because they'd be easy to spot. Companies with flexible vacation plans, she and others say, tend to be team-oriented, transparent environments.
"You're letting your team down if you're not coming to work," Keenley says, "I think it kind of self-regulates."
Another reason employees probably don't abuse a lax vacation policy, Frame says, is because the hiring process selects for a certain kind of person. Companies screen for the behavior they want during the first interview. "If you're going to abuse the policy, you're not going to stay in that organization anyway," Frame says.
Taming workaholic contagion
Some companies like the idea in theory, but are adjusting the model. Hulu, for instance, is in the midst of a massive review of all its workplace policies in order to make the company less bureaucratic and give employees more control. It has studied Netflix's model, but it has decided not to copy it entirely. That's because Hulu employees expressed concerns about doing away with tracking vacation time altogether, says John Foster, Hulu's head of talent and organizational development. They were worried that there would be pressure to mimic managers' work habits, he says. "If they've got a workaholic boss, without the vacation policy, there's no leverage over their bosses," says Foster.
That's important, Frame says. While it may seem like a gift to employees, executives making sweeping changes should check with workers to see if they actually want something such as a new vacation policy.
Of course, sometimes a flexible vacation policy doesn't fit a company's profile. It works for salaried, not hourly jobs, for example, and would be more difficult to use in places where people needed to be physically onsite for everyone else to work --say, in construction.
But the policy can take a huge burden off of companies where employees don't typically work 9-5 schedules.
For example, four-year-old software company HubSpot implemented a flexible vacation policy 9 months ago because the old system of tracking employee hours wasn't working, says Mike Volpe, HubSpot's vice president of marketing.
"It's not like we give them our credit slip on the weekend when they work for half of a day, so it just seemed kind of weird to say 'oh we're going to track how many vacation days you take.'" For HubSpot and similar companies, the mark of a successful workday isn't the number of hours logged, but some other metric.
Broadly, Frame advises executives in fields where flexible vacation may be a good fit to back up and think about the goals that the company wants to achieve. Then, "focus on taking the ambiguity out of those performance goals, making them clear and measurable, and also making sure that employees have the time and resources that they need to meet those goals and objectives." People can then take the responsibility to manage their time and meet those goals.
That advice may be easier said than done, but still worth considering for any company whose corporate policy might not jibe with formal vacation time. If the idea of "punching the clock" feels dated, it might be a good idea to kick the corporate clock altogether.