AutoNation: GM, Ford, Chrysler driving up sales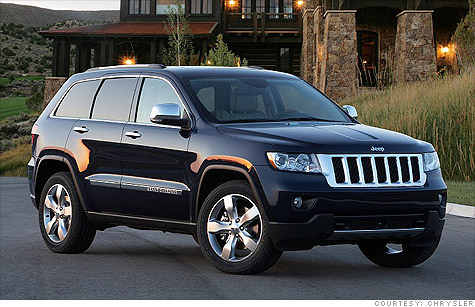 NEW YORK (CNNMoney) -- American cars took the lead in boosting sales last year at AutoNation, the country's largest network of auto dealers.
While AutoNation's car sales were up overall in 2010, they rose most sharply at dealerships selling Ford, General Motors and Chrysler products.
"With the events of the past couple of years, consumers have come to understand that the domestics have a better offering," AutoNation chief executive Mike Jackson said.
New car sales were up 15% overall, compared to the same period in 2009, at AutoNation's 206 dealerships in the fourth quarter but 24% at those selling Detroit brands.
AutoNation's overall revenue, including sales, service and parts at all of its dealerships, rose 17% last year compared to 2009. Auto sales have risen across the industry this year.
Improved products weren't the sole reason that customers preferred dealerships selling domestic cars, Jackson said.
Ford Motor Co., in particular, benefited from the financial crisis that sent GM and Chrysler into government-backed bankruptcies.
Customers began coming into Ford dealerships, Jackson said, largely to show support for the lone domestic automaker that hadn't taken bailout money. But Jackson also credited Ford's improved line-up with making sales.
"We had people coming into Ford and Ford was there with great products," Jackson said.
Toyota's problems with recalls and reports of unintended acceleration also helped. Concerned consumers began looking harder at competing brands, Jackson said.
While Toyota's troubles may have gotten consumer's looking, Jackson said it was the improved products that actually closed the deals.
"Our Chrysler business is up 44% in the month of January," Jackson said.
For that, he credits Chrysler's recent revamping of its model line-up. While only a couple of models -- the Jeep Grand Cherokee and Dodge Durango SUVs -- are really new, most Chrysler, Dodge and Jeep models received significant makeovers.
Those types of substantial "mid-cycle" makeovers -- big changes made without waiting for a complete model redesign -- are rarely done in the auto industry, Jackson said, because they're considered inefficient. But Chrysler CEO Sergio Marchnionne recognized the need to act quickly to salvage a model line-up that wasn't competing.
"Chrysler's back in the game," Jackson said.
General Motors, likewise, has capitalized on a new car market that's in transition. While GM's incentive spending rose last month, AutoNation president Mike Maroone said he isn't concerned that GM is falling back into its former bad habit of driving sales with rebates.
With the help of former executive Bob Lutz, GM got its product development process on track, Jackson said.
"Bob Lutz blew up that process and developed a new way to build cars at GM," Jackson said.
Jackson isn't worried about the automaker losing its touch now.
"I think the change at GM is absolutely systemic," he said.
GM's decision to begin selling the Chevrolet Volt electric car in all 50 states by the end of this year will help the automaker's overall sales, Maroone said. While GM may sell only a handful of Volts, the car's mere presence in a showroom draws in customers who are then exposed to other cars in the line-up.
"People are very excited to see it," Maroone said of the Volt, "When they drive the car they are very excited."